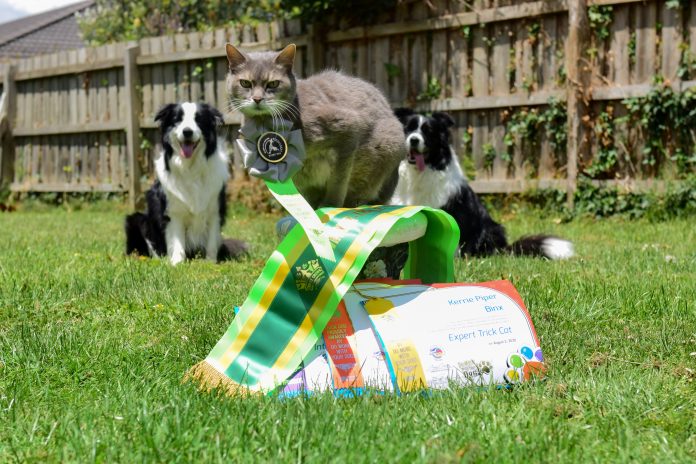 Kate Withers
You can't teach an old dog new tricks, or so the saying goes.

But no such phrase exists with reference to felines, and one senior cat from Trafalgar has proved the opposite may in fact apply for his species.

Binx, the 16-year-old moggy found himself with time to burn during quarantine and, like many, decided to try his paw at a new hobby.
He has been moonlighting as a "long-tailed hunting terrier" with the help of his owner, a dog trainer.
So convincing is Binx's impersonation of a dog that he put all the canine competitors to shame at an international dog show in August. Yes, a dog show.
Owner Kerrie Piper has been training dogs, specifically border collies, in performance arts for more than 30 years.
But when staged events were hijacked by coronavirus this year she turned to virtual competitions with an unlikely contender in tow.
"We compete on the world stage and one of my older dogs is actually one of the best in the world," Kerrie said.
"In February one of the associations said they were going to run a novelty competition to encourage people to keep training, and there were no rules other than it had to be safe and use a particular song.
"I'm a big fan of stretching rules and there was nothing that said it had to be a dog or a particular breed of dog. I thought 'right, they're the only rules?'
"So I looked at my cat and said to him 'come on Binx, lets do some dancing'."
The purring prodigy wowed a panel of judges from the United States in his debut show.
So much so that he was awarded in several categories.
Binx now holds titles in Canine Conditioning and Fitness, Expert Tricks, Triple Crown and even Quarantine Canine Parkour – all despite his pedigree.
He also made history by becoming the first non-canine competitor in the world to title in the live Stunt Dog competition.
"He satisfied all the requirements as well as any dog could," Kerrie said.
"He's very good at heeling but his favourite things are spins and sits and he's very good at paws on things.
"I expect all the animals I work with to do what they're asked to do, so they're used to bargaining with me for food, and Binx really likes dental treats so that was his motivation.
"There's limitations to what Binx can do because he's old now, he used to beg and rollover but I don't ask him to do that anymore."
At 16, Binx has well and truly hit the twilight years of his nine lives.

He will now enjoy retirement and "go out on a high" as a celebrated world champion after his first and final competition.