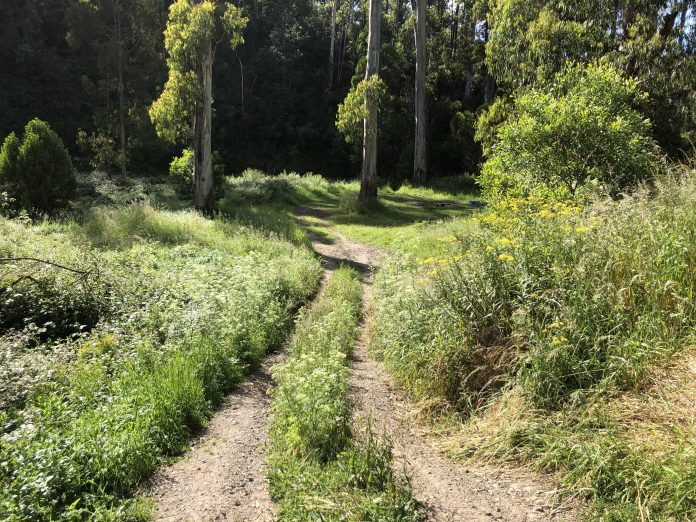 Kate Withers
A resident who escaped the Black Saturday fires fears overgrown vegetation along Traralgon Creek and surrounds has become a bushfire hazard.

Traralgon's Neil Starkey, who has been fishing in the area for nearly 40 years, said waist-high growth along Traralgon Creek Road between Traralgon South and Mount Tassie was a natural disaster waiting to happen.
"After Black Saturday, the fires came right through, and burnt out a lot of the blackberries but now it's just been left to grow and it's gone over the top again," Mr Starkey said.
"We were lucky, but we saw cars that people were killed in and now you get a whiff out the back door in Traralgon and smell smoke … it just brings back memories.
"It's back to what it was before Black Saturday, it's just disgraceful. If this dries out and there's a lightning strike or fire, it's good night."
Mr Starkey said he was "duck-shuffled from one department to the other" after raising concerns with the West Gippsland Catchment Management Authority (WGCMA), Department of Environment, Land Water and Planning (DELWP) and Latrobe City Council.
"I spoke to WGCMA and they said it's DELWP's (responsibility)," he said.
"Then DELWP said it's Latrobe City's responsibility and Latrobe City said it was DELWP's responsibility.
"They all said 'well it's not our responsibility'. Well whose responsibility is it?
"If there's a fire, because there's houses up the top … if they want to get out they're going to have trouble, and if there was a fire again the fire brigade would have trouble getting up here.
"You can't even see the river anymore, all along here we used to pull up and just walk along the creek, it's just so overgrown."
A spokesperson for DELWP told The Express that management of the vegetation along Traralgon Creek Road was the responsibility of Latrobe City Council.
"Traralgon Creek … is managed under a memorandum of understanding by us and Latrobe City Council," it reads.
A Latrobe City Council spokesperson said it was "aware of the long grass on the side of Traralgon Creek Road".
"This grass will be slashed as part of council's current round of roadside slashing," they said.
"Council thanks Traralgon South residents for their patience as council attends to roadside slashing across the municipality after a wet, warm spring resulted in significant grass growth.
"Regional Roads Victoria are also responsible for maintaining many main roads in across Latrobe City, like the section of Traralgon Creek Road from Shakespeare Street to Traralgon South."