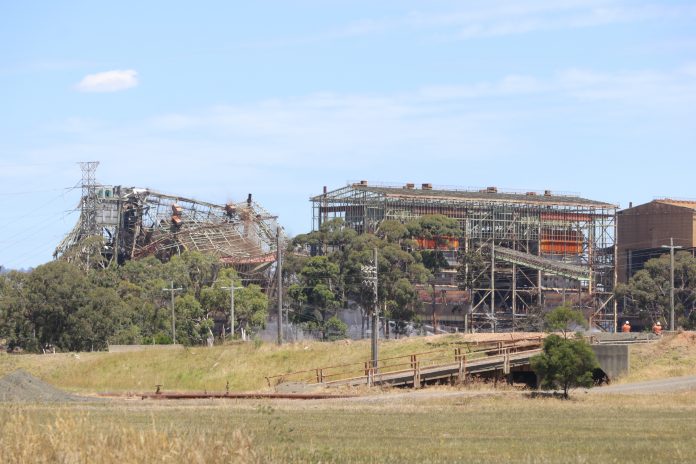 Michelle Slater
Hazelwood Power Station boiler house four was successfully brought down in a controlled collapse this afternoon at 2pm after a second attempt from demolition contractors.

ENGIE head of corporate affairs Ryan Auger described the demolition as "very successful" after a culmination of planning with a team of locals, partners and international experts.

"We are pleased we could come back and complete the job. At each event we learn more and optimise the way we continue our demolition program," Mr Auger said.

"There's never a guarantee, but our planning and efforts were focused on a safe demolition event and reducing the likelihood that we will have to come back to this unit again."

It comes after demolition contractors Delta Group had attempted to knock down the first of Hazelwood's four boiler houses last month.

However, the demolition went haywire when only a section of the structure containing units seven and eight came down, and a fire then broke out in the remaining structure.

Mr Auger said they were still investigating the cause of last month's incident with WorkSafe.

"It appears there was a problem with the sequencing of the chargers. The initial cut charges had detonated, there was no unexploded ordinance from the first event," he said.

Mr Auger said Delta had carried out this afternoon's demolition with robotics and a new set of cut charges.

Immediate inspection by thermal imaging drones showed no hot spots, but the site will be monitored for dust and asbestos in the next 24 hours.

Demolition crew had established dust suppression systems and ensured there was a team of emergency services personnel on hand to manage any fire risk.

Mr Auger said they had also assessed prevailing winds to minimise dust, which carried a smaller dust plume over the eastern over burden dump after the explosion.

"Given the boiler houses contained a degree of coal dust inside the buildings, there was always a risk of a small spot fire," he said.

"But through careful planning, preparation and access to emergency services personnel, we can manage these risks to the best of our ability."

Mr Auger said ENGIE would be looking to bring the remaining three boiler houses and two mine dredgers down in the new year.