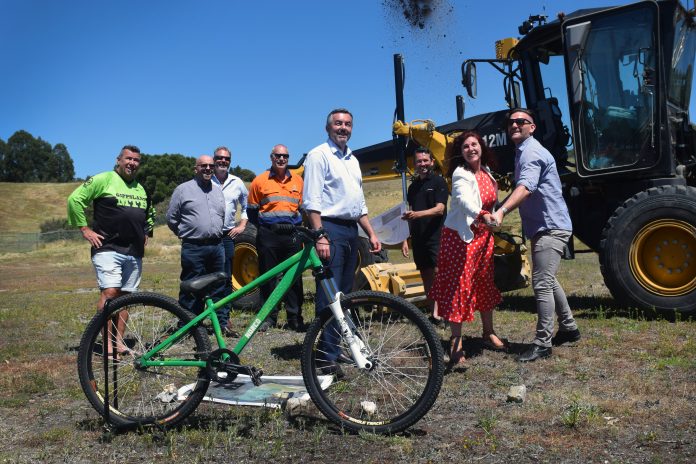 Tessa Randello
Work is now underway on a massive bike park in the Latrobe Valley.

The first ground was broken at the site of the Haunted Hills Bike Park on Monday.
The first stage of the project will see 13 kilometres of trail, pump track, a car park, barbecue, shelters and an accessible toilet constructed on a 35 hectare area of land on Haunted Hills Road.

The project secured almost $1 million in funding through the federal government's Regional Jobs and Investment Package for its first stage and is looking for the same amount to construct an additional 15 kilometres of trail.
The park has secured a lease with Latrobe City Council and EnergyAustralia for this second stage.
Haunted Hills Bike Park superintendent Nicholas King said the park would be a gateway for cyclists in Gippsland.
"This location is perfect, it has a great view of the Latrobe Valley. This is the point where (visitors) will launch their adventures from and we will also have signage to take people to the next venue," he said.
"We want to have competitions regularly, local events and even state events, and bring more people into Gippsland.
"It is going to be more than a bit of fun as a bike rider, its a passion of mine and its something that I have worked towards my whole life, it's a fantastic day for me.
Mr King said it has taken about nine years for the project to break ground.
"It has been fantastic to have representatives from Gippsland Mountain Bikes Inc, Latrobe City, our lead contractor TrailScapes, civil and construction engineers HCM Constructions and Destination Gippsland."
Federal Member for Gippsland Darren Chester said the new bike park would encourage people to travel to the Latrobe Valley and boost the local economy.
"Visitors travelling to and from the track will be stopping in our local towns for coffee, a bite to eat and fill up their cars which benefits our local businesses," he said.
"The park will give first-time visitors to Gippsland and the Valley a chance to see everything our region has to offer and give them a reason to make a return visit."