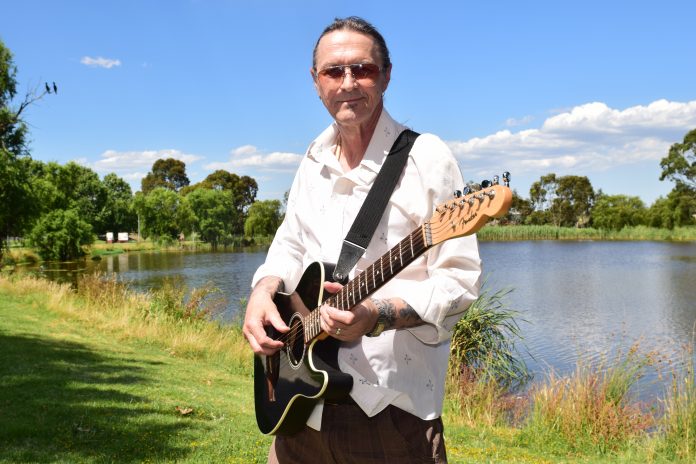 Michelle Slater
A Morwell muso who once opened for the mighty Midnight Oil is back playing gigs after re-learning how to use his arm and losing a leg due to a horrific motorcycle accident in Indonesia.

Ned Branchi was part of the old school St Kilda music scene, playing The Venue and Crystal Ballroom with his band The Horla, made up of Crowded House bassist Nick Seymour and Bad Seeds members.
Mr Branchi said they were hand-picked to support the Oils in the mid-80s, taking them out of sticky carpet pubs and in front of massive and sometimes hostile crowds.
But opening for the Oils is known as the hardest gig in Oz rock, with crowds notorious for chanting over the support act.
"We had to win the Oils crowd over, we knew we had to really work this audience. My band was visibly terrified because the audience was throwing spit and change and plastic cups at us," Mr Branchi said.
"All the bands supporting the Oils went through this. But we had them by the first song and that was quite a feat."
But it was Mr Branchi's fascination with languages and anthropology that led him to study San script, traditional healing, medicine and music in Indonesia, based in Yogyakarta.
There he worked with local traditional gamelan players and recorded an album fusing western with local music styles, playing in some of Java's most prestigious venues.
"We had a lot of press as I was a white guy playing a fusion of styles with a 12-piece gamelan and 10-piece string section with traditional dancers," he said.
"We played in the cultural park, the equivalent of the Sydney Opera House. It was up there with the Oils gig as the greatest experience of my life, it was extraordinary."
But things took a turn in 2014 when his motorcycle flipped and hit the road, shattering his leg and shoulder, leading to lengthy infections in sub-standard local medical conditions.
"I remember it was hell, there was no other word for it. A month in Indonesian hospitals was hell, in that intense humidity with only a fan and no air conditioning," he said.
"The concept of wound management and sterile practices was rudimentary. I came out of an operation wrapped in the same bandages I was wrapped in before.
"They put in a metal bar that failed. My leg stank and became gangrenous. I don't have a shoulder joint, I couldn't lift my arm above my hip."
Mr Branchi was later evacuated to Perth, where there was an ambulance waiting for him to take him straight to hospital where they amputated his leg.
He was set up with a prosthetic leg and was walking within six months, but is still awaiting a shoulder reconstruction.
It took a few years before Mr Branchi could wrap his arm over a guitar and learn how to perform standing up, with hours of intensive daily physio.
He is now back to playing live gigs and focusing on putting out some new music, including releasing remastered material, and appearing in a music program The Roadie Show on YouTube.
"I started off slow playing open mics in Morwell, but I have to limit my sets so I don't do any damage. I've had some catastrophic falls and I don't want to do this on stage," he said.
"But I want to re-establish myself. I want more people to experience live, original music. There's no time to stop, I have a full set up and I want to start working on my next album."