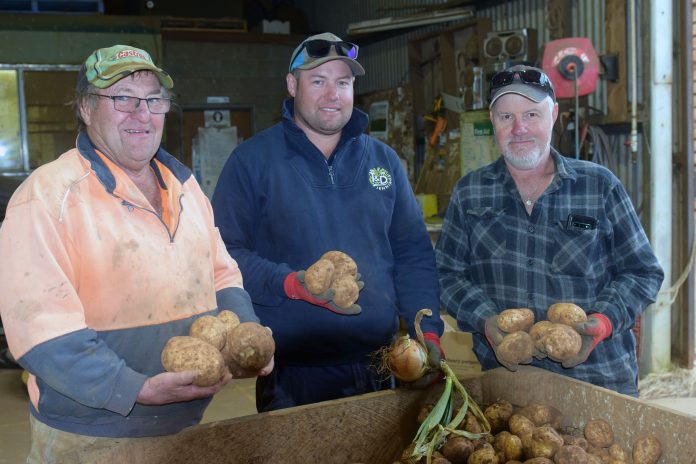 Liam Durkin
LIKE Christmas, some things come around every year, and in Thorpdale, it is the spud harvest.
The harvest season commenced recently and is set to run until mid-May.
It will be all systems go getting tonnes of potatoes out of paddocks, into sorting sheds and onto trucks making their way to various destinations across Australia.
The world's most versatile vegetable has become synonymous with the small farming community, as generations of growers have continued in the footsteps of their predecessors.
Thorpdale farmer Stuart Jennings is one such, and is growing around 70 acres of potatoes this year.
"It's (Thorpdale) fairly unique being a small area with a high rate of production," he said.
"It hasn't really got going yet but another week it will be the silly season."
With Thorpdale located inside a former volcanic crater, the rich red soil of the area makes it ideal for growing potatoes.
The remarkably sticky red soil has almost become as well known in Thorpdale as the potato itself, and has led to many mothers refusing to let their children wear white shirts or socks.
Shoppers traversing their local supermarket or wholesaler may see some potato varieties grown in Thorpdale.
"Things that people would recognise would be things like Dutch Creams and Sebago's," Jennings said.
"We're brushed market, so the ones that have dirt on them, they keep a bit longer than a washed.
"I always tell people if you are going to buy spuds, buys some brushed spuds and buy some washed spuds. Have your washed spuds for the quick meal, and if you start wondering what are you going to have for tea tonight – that's when you grab the brushed spuds out of the cupboard because they will still be fine."
After potatoes are planted and irrigated for weeks on end, the exposed tops of the potato plant are slashed, allowing the crop to be dug up and brought to the surface.
Potatoes are brought to the surface through a process known as 'digging', which essentially works using a conveyor belt pulled by tractor. Depending on what is needed, farmers may choose to have their crop dug with a harvester, or simply hand picked.
Paddock staff on the harvester work to remove things such as dirt clumps and any potatoes that are damaged, before the potatoes are transported from the paddock to a packing shed, where they then travel over a series of rollers and belts to be manually sorted.
Hand picking is virtually exactly what it says, and those tasked with this select unblemished potatoes of around tennis ball size to go straight into hessian bags, cardboard boxes or wooden bins.
Potatoes picked straight into bins are generally used as seed for the next season.
Strangely enough, the footwear of choice for many potato pickers is scuba diving boots, as their lightweight construction and tight fit allow pickers to get around the paddock freely without dirt getting inside their socks.
In days gone by pickers would be paid for every 50 kilogram bag picked. According to local legend, which has surely increased over time, the most bags picked in a day was around 500.
Jennings was pragmatic when asked how the forecast looked for the season ahead
"I'm guessing slow. We've seen a bit of fallout from COVID this year which we weren't expecting to be quite as bad as what it is," he said.
"Hopefully over the next few months it will pick up a bit and we'll be able to move a bit more stuff and we'll be able to catch up.
"When everyone started panic buying everything went crazy and we probably had about two weeks where anything that we could get out of the shed was gone – everything sold.
"Then after that it was very patchy, very hot and cold, you'd have one week where you'd sell nothing and the next week you'd be flat out again.
"It's definitely had an impact and I think we're seeing a slowdown in the market because of it this year."
Farmers in the area are also dabbling in other products in order to progress further.
"We're seeing a bit of diversification. Thorpdale is traditionally a brush potato market, people are starting to move into other things to work with the potato," Jennings said.
"We're seeing a few guys growing cabbages, guys growing broccoli, we diversify a lot into onions and carrots.
"People are seeing there's other things than spuds to grow."
While there might be other crops being grown, Thorpdale's legacy as being home to the humble spud looks set to stand the test of time.
Where students at Hogwarts are placed into houses named after wizards, students at Thorpdale Primary School are placed into houses named after potatoes – Pontiac, Sequoia and Kennebec.