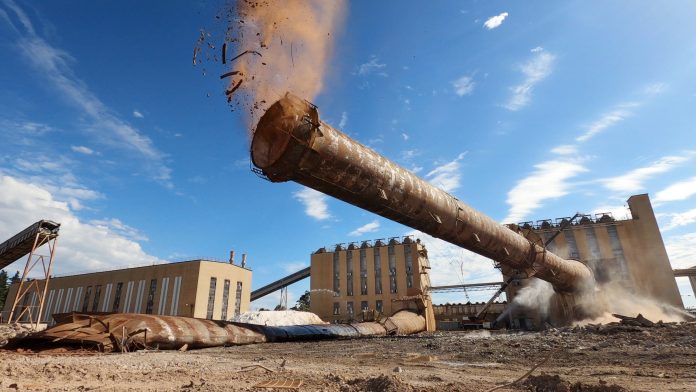 Tessa Randello
Two booms echoed through the Latrobe Valley on Saturday morning, as the last two chimneys at the former Morwell Power Station collapsed.
The first tower fell just after 8.40am and the second at 10.15am as part of the Energy Brix Australia demolition project.
Spectators gathered at the old employee carpark on site to watch the 94-metre tall chimneys fall.
EBAC remediation general manager Barry Dungey said that Saturday's demolition "went exactly to plan".
"The weather has been pretty quiet, wind-wise, and that was our major risk and we were pretty much on schedule," Mr Dungey said.
"All of the chimneys contain steel and brickwork with virtually no asbestos in the chimneys themselves, but there is asbestos in the base which is still intact so then we go in at the end and remove that."
Mr Dungey said steel from the towers would be sold as scrap in Melbourne and the bricks crushed and used to level the Commercial Road site.
Many people drove into the Energy Brix employee's old carpark to watch the historical event, with cameras at the ready.
"The thing I will notice the most is when you come over the Haunted Hills there and look down, the chimneys have been there for so many years that it will certainly look different for a while," Mr Dungey said.
"There was certainly a lot of interest in the collapse particularity from people who used to work here, which is understandable, but time moves on and hopefully now we have cleared a space that something else can be developed on."
Mr Dungey said company Gippsland Infrastructure "have an option to buy the site".
"They are still working with a number of future developers about what they will put on site so they will have to make their decision by the end of March, about whether they want to go ahead with that purchase," he said.
"If they don't want to go ahead with that purchase then the site will go back to government."
The chimneys were the last of the Energy Brix structures to be demolished, Mr Dungey said the team were now in "clean up mode".
"I am very pleased with how the project has gone," he said.
"Safety has been excellent, we have gone a bit longer than originally planned.
"Most of that has purely been about the mount of asbestos that we have had to deal with, that was all within the building.
"We lost no time on the project due to the COVID restrictions, last week was the first time we had lost time on the project due to COVID because they shut down the constriction industry.
"For a project of this size and difficulty and sensitivity with asbestos I think its been a great result."