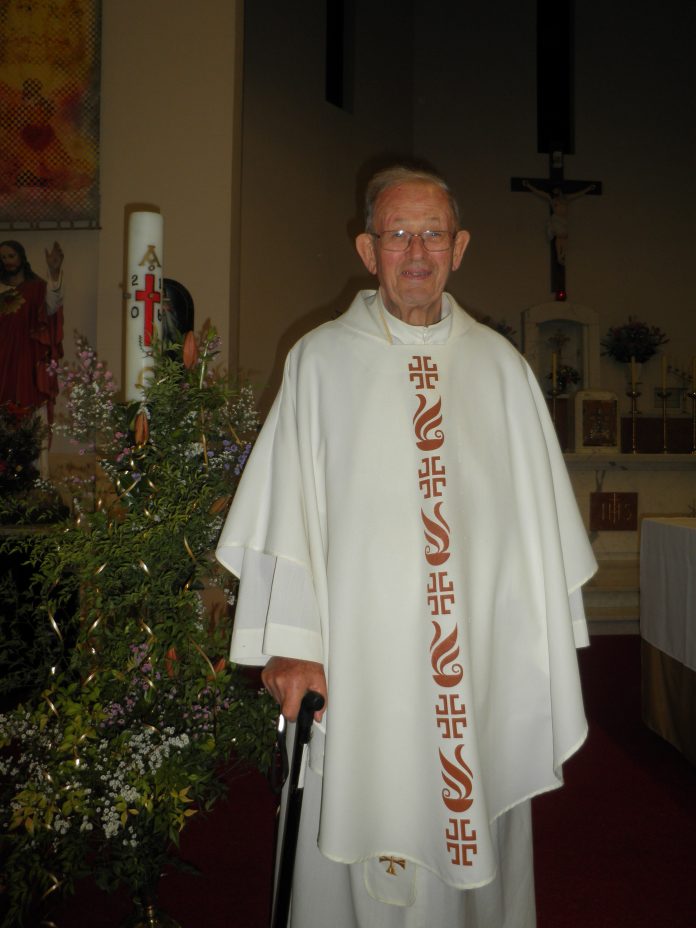 Liam Durkin
TRIBUTES have flowed for legendary Trafalgar priest Father Tom O'Connell, who died this week.
Father Tom served the Catholic Diocese of Sale for more than 50 years.
Born in Ireland in 1933, Father Tom was ordained at All Hallows College, Ireland before being sent to Australia in 1956.
His first appointment was to the parish of St Therese's, Yallourn. Over the next five decades Father Tom ministered in many parishes across the diocese, including Morwell.
He became parish priest of St John's Trafalgar in 1980, and served there until his retirement in 2007.
As parish priest, he conducted many sacraments for students of St Joseph's Primary School Trafalgar – occasions he always counted as a highlight.
St Joseph's Primary School principal Patricia Mulqueen said Father Tom would be sorely missed.
"Father Tom will be remembered for his warm and happy personality," she said.
"As a priest he brought friendship, songs and lots of fun to our school. He has been a truly loved member of our school, parish and in fact all of Trafalgar.
"We will always remember Father Tom with much love."
Father Tom became a much-loved figure throughout his time in Trafalgar, and was known for his humility, sense of humour and generosity of spirit.
His work was recognised in 2005 with Baw Baw Shire awarding him an Australia Day medal for commitment to the local community.
An avid sports lover, Father Tom played golf for many years and was a passionate St Kilda supporter.
He also watched many games at the Trafalgar Football-Netball Club, where he was number one ticket holder.
Father Tom's rosary beads were often on hand when sport was concerned.
Bishop Greg Bennet of Sale paid tribute to Father Tom, saying his career stood as a shining example of service to the Catholic faith.
"Father Tom O'Connell's death marks the end of the extraordinary ministry of those pioneering Irish clergy who, for generations, served the people of the Diocese of Sale," he said.
"Father Tom will be fondly remembered for his priestly goodness and his generous pastoral heart. He was a respected brother priest who brought much joy, humour, song and friendship among the clergy of Sale.
"Father Tom's faith in God was central to his life. Through his ministry he brought joy, hope and God's love to others."
Father Tom died peacefully on Sunday at Andrews House, Trafalgar.
He had 11 siblings, four of whom became nuns and another who followed in his brothers footsteps by entering the priesthood.