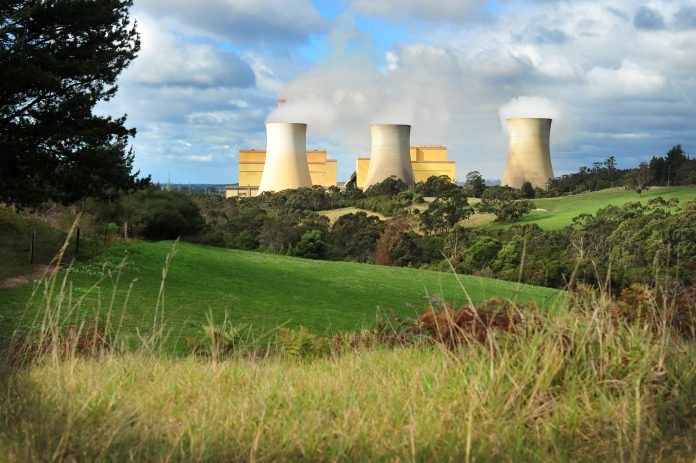 Michelle Slater
EnergyAustralia has announced it will close the Yallourn Power Station by mid-2028, four years earlier than its slated closure date of 2032.
The company told its Yallourn workers the news via a text message yesterday morning before later making a more formal public announcement at the Yallourn Bowling Club.
EnergyAustralia managing director Catherine Tanna said the company had made the agreement to close the station with the Victorian government.
The plan includes a $10 million worker transition package to re-skill and retrain workers, retirement packages or to offer jobs involved in decommissioning the plant and mine rehabilitation.
"Today is day one of sitting down and developing that transition plan with our people and to understand what works for them," Ms Tanna said.
"Meanwhile, we can't forget that this may be a tough time for our people at Yallourn, some of whom have had family working at that plant for decades.
"We will rightly be judged by our actions and not what we say, and with that, the real work starts."
EnergyAustralia has also made a commitment to build a four-hour 350 megawatt battery to be co-located at the Jeeralang gas plant by 2026, providing about 80 jobs to build it.
Ms Tanna also assured that the company would run its maintenance program at Yallourn until 2028, with a large outage planned for unit two later this year.
"We do not pretend that a battery is a like-for-like replacement for Yallourn either in terms of what service it provides to the system or jobs it creates," Ms Tanna said.
EnergyAustralia had decided to close Yallourn as more renewables were coming into the market, meaning less coal was required in the system.
Ms Tanna said seven years closure notice would provide clarity for the energy market to plan for a "smooth transition" while delivering "more affordable [retail energy] prices for all customers".
She said the 2028 date would also allow for the Jeeralang battery to come online two years before the station closed.
However, she also did not rule out building another gas fired plant in Victoria as part of the energy transition, if this is what the market demanded.
"Energy transition is real and its happening faster than what people had forecast five or 10 years ago, nobody thought just how fast this energy transition would be," Ms Tanna said.
"It's no secret that the future of all coal fired power stations has been questioned a lot. This agreement gives clarity to the workforce at Yallourn, and help them plan their future careers."