By Zac Standish
The clean-up effort at Traralgon Centre Plaza is now underway, with crews of contractors across a number of different areas descending on the centre to assess the significant damage to its indoor and outdoor carparks.
The scenes on June 10 had to be seen to be believed as the torrential rain and wind saw water fill the underground parking facility in a matter of hours and leave a trail of destruction that will have the centre reeling for months to come.
Traralgon Centre Plaza operations manager Neville Anderson gave an update on where things stand in terms of the clean-up.
"So we have two people currently at the east entry of the outdoor carpark, they are cleaning everything away as we speak and we hope to have that open by close of business today (last Friday) and during the day they plan to open more and more bays," Mr Anderson said.
"Down below (in the underground carpark) we have another six guys who are cleaning out some of the storage tunnels for the retailers so they can get into their product.
"They are also going to clean out the underground tunnel and the carpark and we will be able to get access by Monday afternoon at this stage from the Franklin Street and Grey Street ramps."
Mr Anderson described the feeling of getting into the carpark for the first time since the floods and seeing first-hand the damage it had caused.
"My first reaction was tears to be honest," he said.
"It wasn't nice and it was a pretty tough time, we have the retailer down there in the carwash and it was really devastating for them along with the other two down the bottom of the travellator as well – it really is just devastating stuff."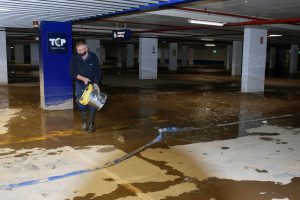 He outlined the areas that received the most damage as the centre braces for a hefty financial hit.
"The whole basement carpark was pretty much just a total write off, the water came up at least 400mm at the highest point and it effected the bottom of the travellator very badly, so that won't be up and running Monday but we do have some carpet runners we are going to run up either side to ensure people can push their trolleys up and down," he said.
"The fire pump room got damaged, the fire panel, a couple of switchboards down there, the workshop which has a lot of spare parts and tools and equipment that was all damaged, all the Christmas decorations through there and a couple of the retailers store rooms as well.
"In terms of financial damage at this stage I could not tell you, sometimes you think something is worth more than it is or less than it is so I cannot give an estimate at this stage but it is relatively extensive."
Working at the plaza for just over seven years, Mr Anderson said he has never seen damage of this magnitude as the flood waters engulfed much the facility in rapid time.
"I have been here for nearly eight years, Adele (Nardino) has been here for over 30 and they have all said to me they have never seen anything as bad as this one," he said.
"Unfortunately we had all processes in place ready to go for flood plans but they went out the window straight away as the water came in too quick and too high and there was just nothing you could do."
With the water now subsided from the carpark and cleaning underway, he said the focus has now shifted to making it free of contamination and safe for all patrons.
"Our biggest concerns are making sure it is clean, it is hygienic and that we don't have any contamination, germs or diseases coming through so first and foremost we have to make sure everything is spot on there," he said.
"Electrically we need to make sure everything is safe, we have to get the fire panel up and going properly so we have proper fire protection throughout the whole plaza.
"At the end of the day we need to make sure it is safe for all patrons so that next week when they come in everything will be ticked off, above board and people can have comfort in coming to the facility."