Michelle Slater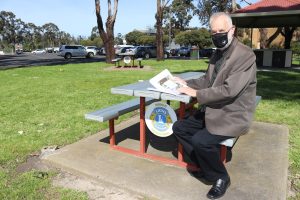 Latrobe City Council is up in arms over TAFE Gippsland's plans pave parts of the parkland at Kernot Lake and put up a parking lot.
TAFE Gippsland plans to remove 10 native and non-native trees, and relocate a picnic and barbeque as it expands its eastern car park as part of an extensive building program at the site.
Latrobe City councillors have asked TAFE Gippsland to come up with an alternative planning layout that would avoid chipping away at parts of the well-used public space.
Latrobe City will also ask TAFE Gippsland to present a master plan that provides details on its future expansions and proposed car parking as the education provider builds more facilities.
Latrobe City Cr Graeme Middlemiss cited singer Joni Mitchell as he described Kernot Lake as "probably Morwell's greatest asset".
"You don't know you got 'til it's gone, and this is the situation we face at the moment." Cr Middlemiss said.
"Now they want to put a new car park in, but they want to take the trees out, they want to destroy part of the landscape of that much-loved area."
The Kernot Hall and Civic Gardens precinct was sold-off under Kennett-era council amalgamations, meaning TAFE Gippsland owns the land, but parts of the park and hall were retained by council.
Cr Middlemiss said the area had been converted from a paddock into carefully landscaped parkland about 40 years ago.
He also acknowledged that council did not have any planning authority over TAFE Gippsland's plans, and by law, could not stop it from building the car park.
"TAFE, social housing, windfarms and solar farms, major industrial stuff – we are losing our planning powers over these," Cr Middlemiss said.
"I'm sure we wouldn't allow [TAFE] to build this car park if it went to us [for a planning permit], but it hasn't.
"What at least we can do is retain the trees and say came back and talk about how they can re-design it."
TAFE Gippsland has stressed there would be minimal impact on existing native vegetation and it would replace the trees and work with council to decide relocation and species.
A TAFE Gippsland spokesperson said the education provider would continue to "work cooperatively with Latrobe City on providing the best outcomes for the local community".
"TAFE Gippsland has been working cooperatively with Latrobe City Council for a considerable time on the issues associated with building new, leading edge vocational training facilities for the benefit of the Latrobe Valley community at our Morwell campus precinct," he said.
"These discussions have included issues in regard to increasing public access through additional car parking."