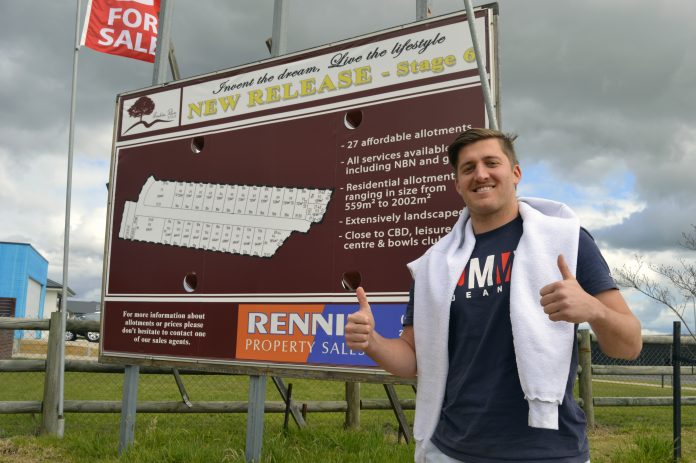 By TOM GANNON
THE Latrobe Valley's growing reputation as a property hotspot was reaffirmed last week.
In just under eight hours, Rennie Property Sales sold 27 blocks of land at the new Gaskin Rise Estate in Churchill.
Rennie Property Sales director Peter Rennie, who has been in the real estate industry for four decades, described the sale as the most "unbelievable thing" he's seen.
"We sold out in seven and a half hours without any advertising, it's unheard of," Mr Rennie told The Express.
"It's unbelievable, in 40 years of real estate I've never seen anything like that.
"Normally something like that would sell two or three blocks a month and it would normally take about six months to get all those sold."
Although the Latrobe Valley's real estate market has seen a boom over the past 12 months, largely due to a migration of Melburnians to the regions, Mr Rennie said at least half of the 27 buyers were first homebuyers from the local area.
"I know out of the 27 probably a half were first homebuyers who were young kids from the area who want to build their first house," he said.
"I think finally people are more confident in the real estate market in the Latrobe Valley, the locals have got confidence."
The 27 blocks, at an average size of 700sqm were sold as part of Gaskin Rise Estate's sixth stage at an average sale price of $160,000.
Mr Rennie said similar blocks in the area were selling for around $110,000 only six to nine months ago.
"We sold those reasonably well but nothing like we saw here," he said.
One of these lucky first homebuyers was Churchill local Tyler Hillier, 23, who said he wasn't expecting to be a property owner a week ago.
"I just started teaching and got a full time job so I knew it was going to happen eventually, I just didn't expect it to be so soon but with the housing it seems to be a good time to get into the market so I decided to go for it," he said.
While looking at his newly purchased block of land with his parents Sue and Bruce, the pair decided to put in a call to Rennie Property Sales to see if there were any more blocks for sale.
As luck would have it there was one block left which happened to be the one next door to their son.
"It was really unexpected for them, they weren't too fused in buying anything new but they saw the potential in what the properties are going to be like out here and thought why not and it just happened to be the one next to mine," Mr Hillier said.
"It would have been better if it was down the road a bit but it's alright."
Mr Hillier said the quick sale of the blocks was a reflection of the attraction people had towards Churchill and the Latrobe Valley.
"It just shows the high demand and that people want to be living around here," he said.
"I think Churchill is definitely moving up and it's going to be one of those places people are going to strive to live in."