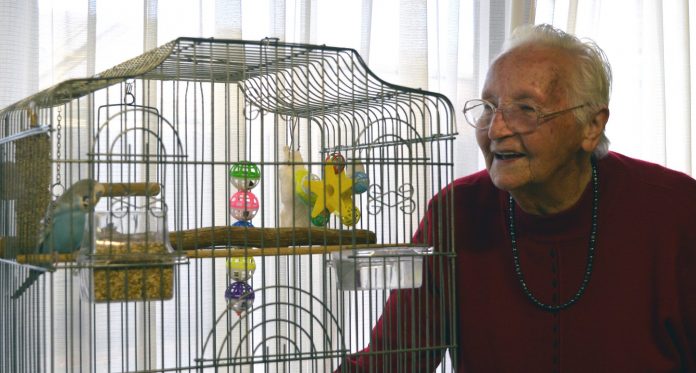 By TOM GANNON
MARY Parr was recovering from the recent death of her light blue budgie 'Joey' when a kind-hearted stranger surprised her with the perfect gift.
Ms Parr, a Traralgon local, has had a pet budgie for as long as she can remember but was particularly heartbroken after the death of her previous budgie Joey in July.
Ms Parr received the bird after her husband died five years ago.
"I feel there's nothing worse than losing a little bird and he died in my arms, I don't know what happened, I was sitting on the chair watching him feed and all of a sudden his little wings shot up in the air, he never would let me hold him, but I picked him up and he died in my hands," she said.
"I've always had a budgie and they've always lasted a long time, but that one I got when my husband died … he only lasted five years, so I was very heartbroken."
After Ms Parr's daughter-in-law Heather put in a call to local breeder Rick Hodgskiss of Rick's Quality Birds to organise the purchase of a new companion, Mr Hodgskiss refused payment and jumped into action.
"When you get an older person tell you that the bird is the reason they get up in the morning, that made me think that's worth way more than what I charge for the bird," Mr Hodgskiss said.
Ms Parr said she was surprised when Mr Hodgskiss appeared at her front door out of the blue, holding what appeared to be a tool box.
"It didn't dawn on me about the bird because it had been a few weeks since it passed," she said.
However it wasn't a tool box and inside wasn't a set of tools but instead a little budgie which coincidentally happened to be the same light blue colour as her previous bird.
"I was surprised all right, it wasn't a tool box, it was my little bird," Ms Parr said.
Mr Hodgskiss said Ms Parr's reaction to receiving the bird made his day.
"I was choking back tears because I thought these old people live on their own and they don't have a lot to look forward to at times and I thought if I can make her day, it makes my day too."
Ms Parr said having a pet budgie has played an even more significant role in her life after the passing of her husband.
"I'm not young and all I've got is my budgie, except for my four boys of course," she said.
"I like their company and especially for me now on my own, it's taken the place of my husband in a sense, it's somebody to say good night to and tell him I love him.
"I'm so appreciative and I love him to death, people must think I've got a child because I treat him like one, I talk to him all the time and even when I'm just outside the door I'll still be talking to him, people probably think I'm silly."
Mr Hodgskiss is urging people to go out of their way and do something kind for others.
"In these trying times if you can do a little bit to brighten someone's day, you can't put a money value on that," he said.