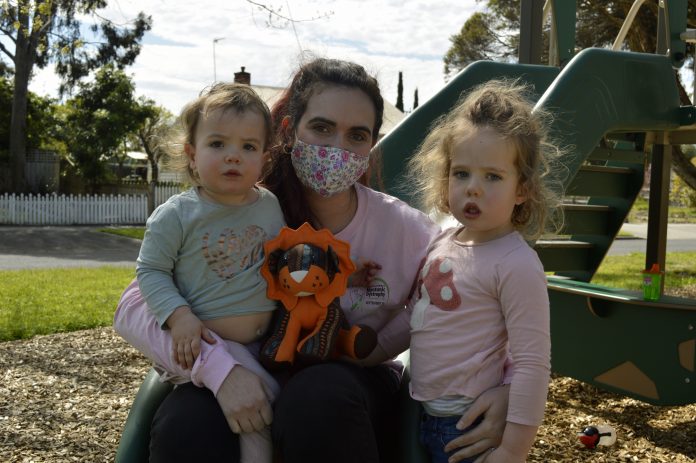 By TOM GANNON
TRARALGON mum Raechelle Butterfield is calling for more awareness around Mytonic Dystrophy (DM) after the diagnosis of her daughter led to her and her own father's diagnosis of the untreatable condition.
Her message comes in the wake of the inaugural International Myotonic Dystrophy Awareness Day last Wednesday (September 15).
DM is a progressive or degenerative disease with symptoms typically worsening over several decades.
Symptoms of DM include skeletal muscle problems, heart function abnormalities, breathing difficulties, cataracts, issues with speech and swallowing, cognitive impairment, excessive daytime fatigue or diabetic symptoms.
While no treatment exists, management of symptoms can greatly improve quality of life and early intervention can reduce complications that arise.
Ms Butterfields experience with DM came when her daughter was diagnosed at 11 months old after a local paediatrician noticed Audrey was behind on some motor skill milestones.
As DM is a genetic disease which can only be passed down if a parent has the condition, it was then discovered that Ms Butterfield and her father were diagnosed.
"We were shocked, because I got diagnosed, then it was a matter of both my parents getting tested as well because the main way DM affects adults is sudden cardiac issues," Ms Butterfield told The Express.
"It can all of a sudden become a major, catastrophic, life threatening issue and you might not get a whole heap of indicators that something is awry.
"Some Adults in their entire life may only have onset cataracts but that can go to something as severe as heart issues, respiratory issues, being wheel chair bound, cognitive impacts as well."
Ms Butterfield is hoping her story will help create awareness for DM so more health professionals know how to look out for the disease and more time, energy and funds can go towards discovering treatment options.
"We wouldn't have known if we didn't have Audrey, our extended family might not have any symptoms or any concerns themselves but they might have a child who is having difficulty at birth so at least through sharing this information they can get early support knowing what it might be," she said.
"Had our paediatrician not known about this condition who knows if Audrey would have been diagnosed by now, we've been able to have a therapist involved with her, through that she's been able to learn how to walk, she's now learning how to communicate well."