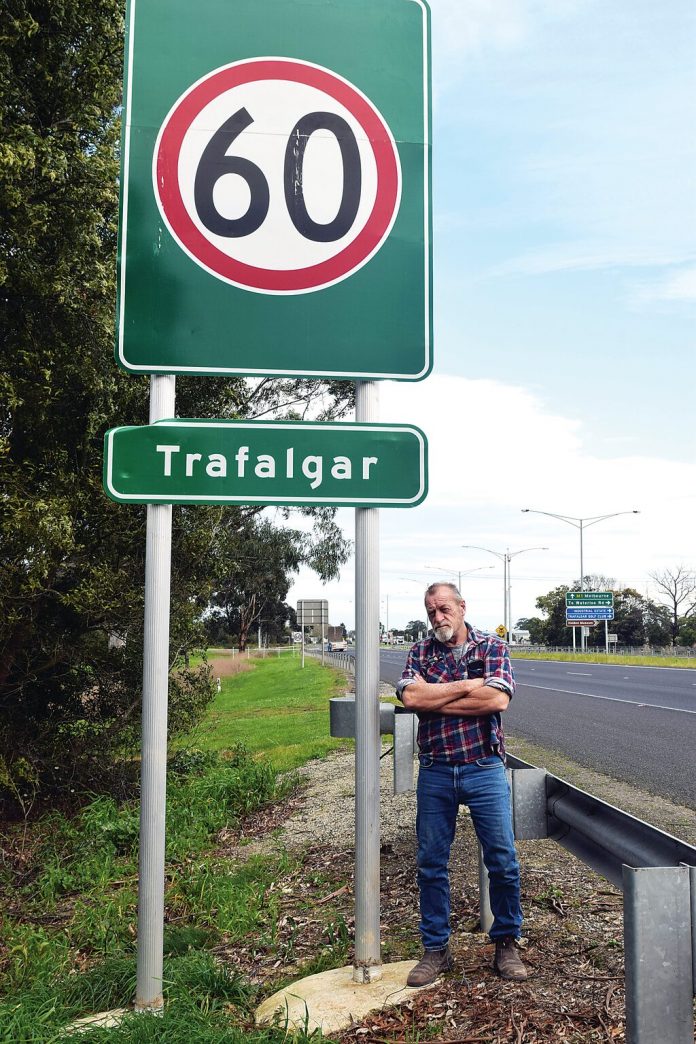 Liam Durkin
By LIAM DURKIN
WESTBOUND drivers on the Princess Highway entering Trafalgar in the last three months have noticed the sudden drop in the speed limit.
Vehicles cruising at 110 kilometres an hour are suddenly required to slow down to an abrupt 60kmh.
Although the new speed limits were implemented in early June as a safety mechanism following a number of fatal crashes and near misses at the notorious Davey Drive intersection, they have caused a great deal of confusion to some residents, who see it as illogical and dangerous to go from driving at top speed to basically half in a matter of seconds.
Trafalgar resident Dave Matthews has spoken up in opposition to the speed limits, and believed there was better options on the table.
"As you come into Traf and hit that 60 zone you should be doing 80," he said.
"When you come into town they have a '60 ahead' sign, even if they just put an '80km ahead' there it would make a difference, then you are down to 60 and you continue through … that makes sense."
Mr Matthews said the new limits had the potential to cause further crashes – contradicting the reason they were lowered in the first place.
"All they (the new limits) are doing is creating impatience. There are accidents happening because people have no idea what speed cars are coming at," he said.
"They assume it is 80, but they are all over the place and can't judge it."
Mr Matthews is not alone in calling to have speed limits in the area around Davey Drive addressed, while it can be said with some certainty that the majority of people driving along that stretch of road at 60kmh will attests to the number of cars that go past well over the limit.
Locals have suggested things such as a
roundabout or traffic lights as a more suitable alternative, or simply creating an 80km buffer beginning at Kennys Rd in Trafalgar East, 2.5km away.
Baw Baw Shire Council has campaigned for a reduced speed limit at the exit encompassing Davey Drive since a fatal crash at the site in 2016 and serious injury crash the following year.
As the third biggest town in the shire and one of the fastest growing in the region, Baw Baw Mayor Danny Goss said the new limits reflected this change in Trafalgar.
"Council is committed to reducing road trauma throughout the shire. Trafalgar is growing, and with that growth comes increased traffic and more pedestrians – these changes will improve safety for all road users. We want kids to be able to walk or ride to school safely," he said.
"There have been several serious crashes at the Davey Drive/Princes Highway intersection and this reduced speed limit means traffic will be able to exit Davey Drive safely, with oncoming traffic approaching at reduced speeds."
Baw Baw Shire's director of community
infrastructure Cohen Van der Velde said the limits were in place to meet road standards.
"Council has been made aware of residents' concerns with the speed reduction travelling westbound into Trafalgar," he said.
"The existing speed reduction measures have been managed by Regional Roads Victoria in accordance with the current guidelines.
"There has been suggestions to introduce
transitional regulatory speed limits (buffer zones) where the speed is reduced in 20kmh increments, however this approach is now not a current road standard and as such is being phased out.
"Council recommends customers lodge a request with RRV advising the Traffic and Road Safety team on the raised issues with the need for further investigation."
Department of Transport Gippsland Region director Sara Rhodes-Ward said the new limits allowed vehicles to turn out of side roads more safely.
"We have listened to community concerns about the safety of the Princes Highway near Davey Drive and the new speed limit is a better fit for the road at that location," she said.
"Transitional speed limit ahead signs are in place to give drivers adequate warning and time to slow down."
Speed limits are subject to a rigorous review process and assessed on a case by case basis. Factors considered include the road conditions, traffic volume, types of road users and crash history to ensure set limits are appropriate.
There was four crashes along the Princes Highway from December 2014 to December 2019 in the vicinity of Davey Drive that tragically resulted in the loss of one life and two people being seriously injured.