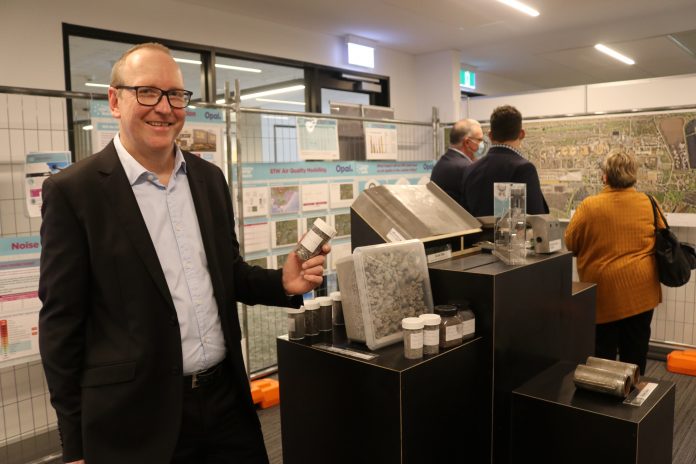 Michelle Slater
LOCALS are being invited to learn more about the planned Maryvale Energy from Waste plant at a new information centre officially opened today at the Morwell Innovation Centre.
The Opal Australian Paper Creating Energy from Waste Information Centre has relocated  from George Street in Morwell to the state-of-the art innovation centre.
Opal corporate development general manager David Jettner said the new premises would offer an opportunity to develop new ideas collaboratively with researchers and businesses.
Mr Jettner said Opal was developing bottom ash recycling, to recover ash residue created from the EfW process which could be used to replace aggregates used in road construction.
He said there had already been interest from potential off-takers for these ash aggregates.
"Regional recyclers, aggregate suppliers and construction companies have expressed an interest in the opportunity to re-use ash aggregates in a range of applications, including as road base," said Mr Jettner.
Mr Jettner said another project under development was an aquaculture facility to farm barramundi at Maryvale, after a $1.24 million feasibility study was committed two years ago.
"We are looking at bringing down the substantial capital expenditure to start this up, we are trying to bring costs down to a level that makes it practical for us to invest," Mr Jettner said.
"This is the challenge of bringing in a new industry when you start from scratch."
Mr Jettner said Opal had appointed a host of specialists and advisors for the next phase of the EfW project, which had already ticked off its regulatory approvals.
The EfW plant could divert 325,000 tonnes of waste from landfill each year and reduce greenhouse gas emissions by approximately 270,000 tonnes per annum.
The $500 million project will create about 500 jobs in its three-year construction.
Opal has secured half its plant feedstock to be supplied by Suez which will divert waste from Melbourne landfill as well as from Gippsland businesses.
However, Mr Jettner said a key part of the project was hinging on securing contracts to procure waste from Gippsland regional councils.
He said the original plans had been scaled down from two to one boiler so as not to rely on the volume of waste needed from Melbourne landfill.
"We know this is more sustainable way to manage waste, and we know from European investors that we can do this is an economically viable way," he said.
Latrobe City mayor Sharon Gibson officially opened the new information centre, stating the EfW project was an important part of the Latrobe Valley's transition from traditional power generation.
"We have to look at new industries to transition our whole economy, and this is a part of the equation. I'm delighted to see this innovation in industry. This is what we need," Cr Gibson said.