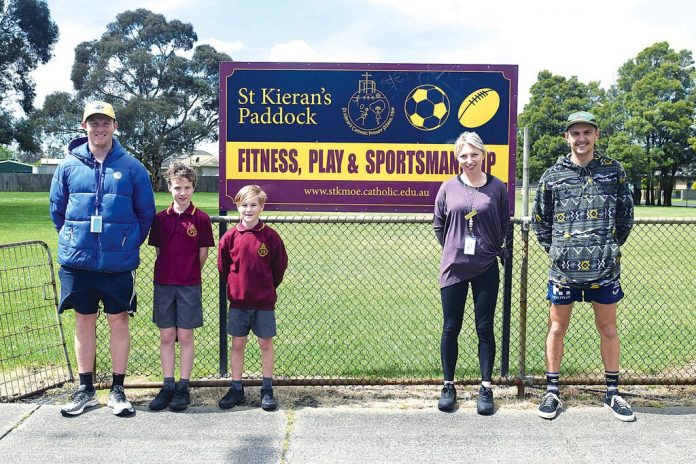 Liam Durkin
By LIAM DURKIN
ST KIERAN'S Primary School, Moe is taking part in the 10,000 Steps Challenge.
The challenge is an initiative of Latrobe Community Health, which aims to get people 'stepping' toward better mental health.
As the name suggests, those taking part need to take at least 10,000 steps every day over the course of the challenge from October 18 to November 21.
While 10,000 steps might seem like a lot, St Kieran's Grade 5/6 and physical education teacher Liam Anderson said everyday movements can quickly make the steps add up.
"Even in the classroom just teaching I normally do 15,000 steps and that is just in the classroom in a normal day," he said.
"It's actually not that hard to get that 10,000 steps, it's just a matter of sometimes we'll have a day where we're sedentary without noticing."
St Kieran's staff have been split into two teams for the challenge, while students aligned to their teacher's grade will be competing for points to see who takes the most steps.
"What happens is every day we're aiming to get 10,000 steps and then anything past that is a positive and extra points to go towards each team," Mr Anderson explained.
"It's about getting people doing the 10,000 steps which is the guideline recommended steps every day.
"The way we thought about it was, kids coming back are going to be less active than they probably have been in the past, they haven't been able to do PE, they've been locked inside a lot of the time, so we thought we'd do this initiative for the staff and students just to get their fitness back up and steps going."
The competitive nature of the challenge is alive at the school, with running tracks mapped out on campus and prizes on offer for the winning team.
Just who will come out on top remains to be seen, and Mr Anderson tipped a close tally board once the four weeks was up.
"There has probably been first round draft picks, so it should be pretty even," he joked.
"Hopefully my team gets the chocolates."
It is unconfirmed yet whether the competition has been rigged, although principal Peter McKenna told The Express that the teams "did look pretty even".
Learning support officer Jacquie Early, who is on the opposing team to Mr Anderson, said staff had an important role to play in the initiative.
"Being educators, being a positive role model to the kids as well, for them to see us be active and taking valued interest in our health hopefully that spikes a bit more of a buzz among the students," she said.
"We've looked at it as let's try and be more active than we normally would, so whether that be park a bit further away and walk, or lunchtimes go out for a walk if you can, just trying to incorporate more activity in the day."
This year marks the third time St Kieran's has undertaken the challenge, and Mr McKenna said it had proven to be a hit.
"It is always very popular, staff always ask when it is coming up. It's become a bit of a tradition," he said.
"I think it's just a brilliant initiative that Latrobe do and it just creates enthusiasm for exercise which does give us the chance to be role models for our students."
Latrobe Community Health Service health promotion officer Veronica Abuan said the initiative had many benefits.
"Research shows regular exercise can prevent depression, reduce anxiety, improve concentration and help us get better quality sleep," she said.
"Considering most of us are feeling more stressed, anxious and even sad due to the COVID-19 pandemic, we're hoping this challenge will help people to exercise every day and improve their mental wellbeing."
The Latrobe 10,000 Steps Challenge is free to join.
Those interested can register their workplace, community group, sports club or just themselves by emailing health.promotion@lchs.com.au or visiting www.lchs.com.au/ten-thousand-steps.