Alyssa Fritzlaff
'PUT Some Colour in Your Life' is set to highlight Gippsland artists on the small screen.
The television show, launched by Graeme Stevenson in New South Wales in 2009, now films artists on a global scale.
There are now nearly 300 episodes.
The Colour in Your Life team are visiting Gippsland to film Latrobe Valley
artists Libby Witchell and Donna O'Callaghan.
Ms Witchell is a well-known local artist who has spent about 21 years teaching others to paint.
Formerly an art teacher at Lavalla Catholic College in Traralgon, Ms Witchell now has
her own studio where she runs classes.
She estimates that in her time as a teacher she has taught more than 1000 students.
Ms Witchell's art studio, located on her large property in Traralgon, display's her wide range of works in different styles and mediums.
"I work across all mediums… certain mediums are better for different tasks, I don't have a favourite" she said.
"A lot of my work reflects my own life experiences.
"Sometimes you need to paint things out of your system."
Painting can be a good tool for maintaining good mental health and dealing with challenging events and emotions, Ms Witchell said.
Some of her work focuses on bushfires which significantly impacted herself and her community.
Ms Witchell's art can be viewed at the Town and Country Gallery in Yarragon.
Ms O'Callaghan is another local artist similarly inspired by her own experiences.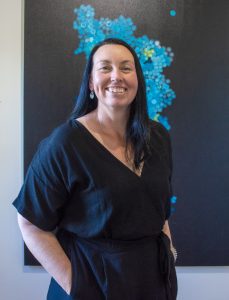 Her art draws primarily on her experiences under the sea.
An avid scuba diver, Ms O'Callaghan creates pieces inspired by the ocean. She primarily paints textural abstracts and minimalist compositions.
Art has been a part of her life since she was a young child.
"My mum was a ceramicist… she used to teach at Latrobe Regional Gallery. So, I grew up around art," Ms O'Callaghan said.
Ms O'Callaghan is a nurse at Latrobe Regional Hospital, and began painting for her own needs.
"I got into painting when my son was quite young, I just wanted some art for my walls and so I thought I'd give it a go," she said.
"I just was doing it for myself, and then my friends asked if I could do some for them and then it just snowballed from there."
"Its nice to have some of that relaxation time away from the nursing."
Ms O'Callaghan said she had some nerves about appearing on Colour in Your Life, but was looking forward to it.
Ms O'Callaghan collaborates on projects with other artists in the community, and worked with renowned Morwell artist Ronald Edwards-Pepper.
Recently, it was announced that all 22 seasons of Colour in Your Life will be sent to the moon on a nickel plated micro disc.
The disc will be sent up in the NASA Lunar Lander, transported by the Space X Vulcan Rocket, due to launch in November 2023.
"When I began this business back in 2009, my vision was to build a library of the minds of
artists, preserving a digital record of creative spirit, culture, and techniques for future generations," show creator Mr Stevenson said.
"I had no idea that the library would be kept on the moon. It is just mind blowing."