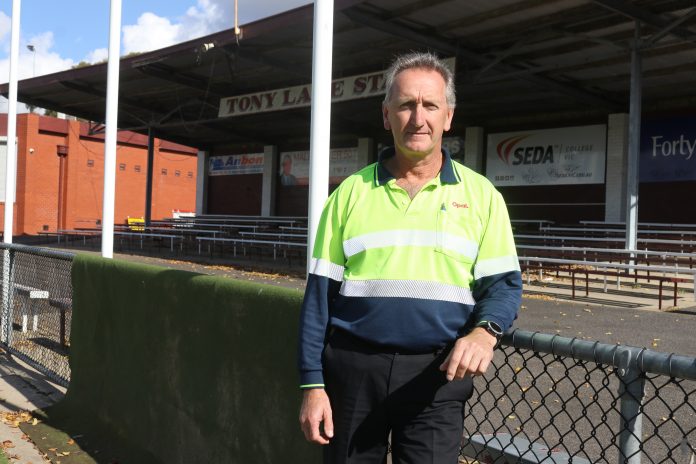 Michelle Slater
Traralgon Recreation Reserve user groups are a step closer to getting fully-revamped flood-proof facilities after the state government kicked-in $4.75m in last week's Victorian budget.
The budget allocation means the much anticipated project is nearly three quarters-funded, with $6.75m now raised towards the $10 million needed for it to go ahead.
The Traralgon flood recovery project will develop a multi-use pavilion above flood levels at the Traralgon Recreation Reserve and a new community hub and events space at Glenview Park.
It comes after the rec reserve was inundated by flood water in last year's June floods, severely damaging buildings or rendering them unusable.
The plan would allow groups including the Traralgon footy, netball, and cricket clubs, as well as the Gippsland Rangers Roller Derby, ag society and men's shed to move into rebuilt facilities.
Traralgon Football Netball Club president Kevin Foley said the club was being forced to play its home games in Drouin or Morwell due to a lack of adequate change rooms at its home ground.
Mr Foley said the move meant the club was losing about $2000 in revenue for each game it could not play on home soil.
"It's disruptive for volunteer involvement, getting sponsors and all the people involved in footy at our grounds when you haven't got facilities, it makes it very hard," Mr Foley said.
"We appreciate what (state government) has put in so far, but it's inadequate at this stage, we need $10 million for the whole project. We certainly hope both state and federal governments chip in."
Latrobe City Council welcomed the funding announcement, after it had already contributed $2 million towards the project.
Mayor Kellie O'Callaghan said the project ready to go as soon as council hit the $10m mark after significant advocacy, planning and consultation had already taken place.
"The June 2021 flood and storm event caused catastrophic damage to this important community asset and has left community groups and sporting clubs displaced," Cr O'Callaghan said.
"This funding provides a significant level of support to this project, which is a vital part of the ongoing recovery of our community."
Federal Member for Gippsland Darren Chester said he had been working with Latrobe City and had been advocating to the Commonwealth for the flood recovery project.
Mr Chester pointed to a list of significant local projects that had received collaborative support from both state and federal governments, such as the newly opened performing arts and aquatic centres.
"The long list of projects that have received both state and federal funding should give the people in the Latrobe Valley enormous confidence that governments are working in partnership to ensure we have a great future in this beautiful part of the world," Mr Chester said.