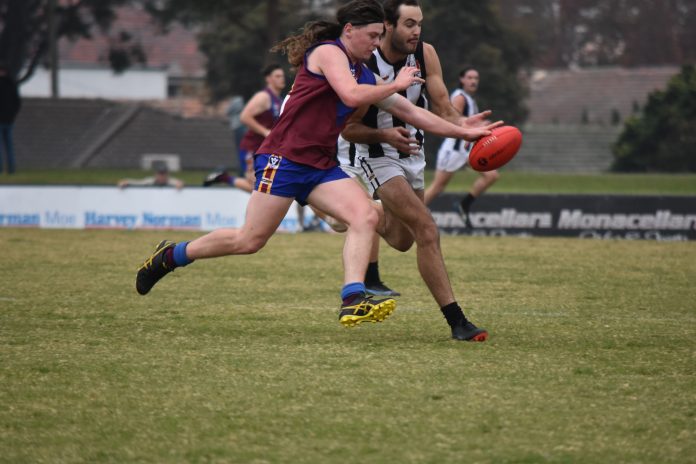 LIAM DURKIN
FOOTBALL
GIPPSLAND LEAGUE
By LIAM DURKIN
ROUND 6 added to the intrigue of the Gippsland League, as a number of teams secured wins of major significance.
Traralgon and Sale solidified their credentials, both getting up over fellow top five sides, while Bairnsdale got off the bottom of the ladder after nabbing its maiden victory for the season.
With another passing week however there was one constant, as Leongatha put another opponent to the sword.
The Parrots remain the only unbeaten team, and even at this early stage of the season, there is an undeniable sense 2022 will be a case of five clubs fighting for the right to play Leongatha in the grand final.
TRARALGON had a number of reasons to celebrate after defeating Wonthaggi.
Not only did the Maroons prevail in a four point thriller, they were able to do so on their home ground for the first time since last year's devastating flood.
By sheer coincidence, Saturday marked exactly one year since Traralgon had played a match for premiership points at home.
There has been no shortage of activity and discussion about the Traralgon Recreation Reserve in the 365 days in between, but most of this was surely forgotten as those wearing the maroon and white rejoiced in the homecoming.
The Maroons led at every change against the Power, eventually holding on to win 9.11 (65) to 8.13 (61).
Traralgon led by 10 points at three-quarter time, and survived a late scare from Wonthaggi after the Power hit the lead late in the day.
With injured playing coach Jake Best watching on, the Maroons other big names stood up. Ball magnet Mark Collison was best on, along with fellow midfielder Tom Schneider.
Luis D'Angelo kicked two goals, as did Brett Eddy and captain Dylan Loprese. Mitch Membrey played arguably his best senior game for Traralgon, along with Tom McMahon and Hugh Dunbar.
Traralgon youngster Josh Hamilton made his senior debut, in what was a family affair alongside brother Tom and dad Troy who is serving as an assistant coach.
Best for Wonthaggi was Mitch Hayes, Jordan Staley and Lochlan Scott, while Jarryd Blair returned for the first time in a number of weeks, although younger brother Jack was a late withdrawal.
The win put an indifferent week for the Maroons to rest, following a somewhat shock loss to Warragul in the previous round.
Traralgon's results to date have them looking very much like an 'on their day' side. That is, one that can defeat any opponent if they perform somewhere near their optimum.
Best has been confident the Maroons system stacks up, and on the evidence so far there is nothing to suggest that isn't the case.
Of Traralgon's three losses, two have been against top five sides by under 10 points, and now that they have beaten Wonthaggi, their standing in the competition is only strengthened.
SALE was too big, too strong and ultimately too good for Moe.
The Magpies won a physical encounter at Ted Summerton Reserve by 12 points, 10.13 (73) to 8.13 (61).
Sale has now won four games in succession after copping the toughest draw to start the season, facing premiership fancies Wonthaggi and Leongatha in the first two weeks.
Conversely, it was Moe's first major test and loss for the season, after the Lions had admittedly been given a pretty soft draw in the first five weeks, winning games against four of the current bottom five teams, as well as a genuine 'get out of jail' effort against Traralgon a fortnight ago.
A tight contest ensued in the first half at Ted Summerton, as the game basically became a battle of defences.
Sale key defender Will Leslie had the job on league leading goal kicker Harry Pepper, while at the other end, Moe playing-coach Declan Keilty repelled many a forward entry from the Magpies.
At half-time, the margin was just one point, and given the greasy conditions, the match had the makings of one that was going to go down to the wire.
Come three-quarter time, Sale had taken a five-point lead after kicking three goals to two.
Some long range set shots by respective leaders in Sale senior coach Jack Johnstone and Moe captain Jacob Wood provided a lift to their side, while the physicality was also taken up a notch as some big hits were laid and a spot fire erupted in front of the Sale coaches box as players from either side flew the flag for their teammates.
Johnstone appeared animated as he addressed his troops at the last change, urging them for 30 more minutes of effort.
A short distance away, Moe took a calmer approach, believing that if they could manage two goals in the conditions and tidy up in defence, it might prove to be enough.
Sale started on top in the final term, kicking the first three goals to stretch its lead.
A left foot snap by Jarrod Freeman at the 19 minute mark took the margin out to four goals, silencing the parochial Moe Can Bar, who were ready to concede defeat there and then.
A nice little give by Lions ruckman Ben Morrow to Trent Baldi set up a goal to Matt Barrand at the 23 minute mark which cut the margin back to 19 points and kept things interesting, but it proved to be too little, too late.
Will Leslie was judged best on ground for Sale, along with Mitch Thacker, Jack Leslie, Nathan Whitford, Pat Tainsh and Jayden Allison in his 100th match.
The milestone took the Allison tally to 559 Gippsland League games. His father Dave played 209 and uncle Steve 250 games for Morwell.
Leslie's counterpart Keilty was a clear best on ground for Moe. It would be no exaggeration to say the Lions would have lost by at least five goals if he didn't play.
The more one watches Keilty the more one can't help but think 'how did he only play two games for Melbourne?'
Wood, Barrand, Baldi, James Blaser and Brock Smith were others to put in determined efforts.
Winning coach Johnstone said it was a solid performance from his side.
"I was really happy with our pressure, it was probably something that has dropped off the last few weeks so to get that back up to where we wanted against a really good side was really pleasing," he said.
"Friday was a 'fun' day. We lost a couple through illness, Brad Dessent has been nursing a couple of injuries so we thought it best to give him a week and then we lost Pendles (Ryan Pendlebury) pretty early as well.
"It put a bit of strain on the backline but the back six today were fantastic, they helped each other and I was really happy with how the guys lifted under adversity.
"Leslie (Jack) had to play a bit more in ruck with Brad going out, we had to try and mix it up. Les is one of those players, I wish I had three more of him. He went through the ruck, played a little bit back, little bit forward, he is a top tier player and played really well.
"Our depth is good this year, our twos are winning games of footy which they didn't last year. The energy around the club is awesome at the moment and when you have both teams winning it makes it so much more enjoyable.
"We were able to lose a few and just bring the next guy in. Tommy Campbell replaced Kane Martin and kicked two goals in a forward pocket, it is good to have that luxury of guys and that depth which we didn't really have last year."
Martin missed the game through off-shore work commitments, while Pendlebury sat out the second half, taking a cautious approach to a hamstring issue.
Johnstone paid particular credit to the work Will Leslie did on keeping Pepper goalless.
"Will is someone you would hate to play on," he said.
"He is really good in the air and once the ball is on the ground he's super fast. He had a big job today, Pepper has been the in-form forward of the comp and I think Will did a really good job on him and was a big reason why we won."
Allison capped off his milestone match with a goal, much to the delight of his coach.
"Jayden is our vice-captain, he was voted by the boys and just wears his heart on his sleeve," he said.
"We were super happy to get the win for him."
In determining where the game was won and lost, an aspect that stood out was how much cleaner Sale was by hand in close. The Magpies appeared to be playing with a dry ball at times as they flicked one and two handballs around the contest before getting out in space.
The sheer size of some of Sale's players also stood out, with many either over six foot or in the classic 'big bodied' mould, making them a difficult team for a fairly undersized Moe to match up on. Without stating the obvious – big blokes don't get any smaller and tall blokes don't get any shorter.
For Moe, a 12-point loss against an opposition boasting the likes of Shannen Lange (over 100 VFL games), Pendlebury (over 100 VFL games) and Johnstone (50 VFL games) wasn't a performance to send too many alarm bells ringing.
Arguably the most telling difference between the sides was not so much on the field, but off.
Sale had as many as four assistant coaches on the sidelines – Moe had one.
MAFFRA won a tight contest against Morwell.
The Eagles withstood a persistent Tiger outfit to win by 11 points, 11.11 (77) to 9.12 (66).
Maffra jumped out of the blocks in the first quarter at home, kicking five goals to one.
From there, Morwell edged its way back into the game, but the Eagles were always able to maintain a lead of around two to three goals.
Maffra led by 17 points with one quarter to play, and got through after both sides kicked four goals in the final term.
Morwell had chances to pinch the game, but had to lament scoring 4.7 in the last 20 minutes.
The win gave the Eagles their third for 2022, and keeps them within touching distance of the top five.
Alex Carr kicked three goals in a best on ground performance, as did Daniel Bedggood who was also among the most prominent Maffra players. The experienced duo of Danny Butcher and Kade Renooy played well, while Tom Jolly was serviceable and Hudson Holmes continued his good start to the season.
Brandon McDonald kicked four goals for Morwell to be named best, and received good support from Brandon McAuliffe, Dan Musil, and Zac Carlson.
ELSEWHERE, Bairnsdale consigned Drouin to the foot of the ladder after winning 19.11 (125) to 10.10 (70).
The Redlegs travelled to Drouin and saw playing coach Logan Austin kick six goals.
Fellow former AFL player Jed Lamb also kicked six goals for Warragul in what was a somewhat bizarre performance against Leongatha.
Lamb kicked all six of the Gulls' goals, but it was nowhere near enough as they went down 16.13 (109) to 6.5 (41).
His effort did however set a new record, as never before had a Gippsland League player kicked as many as six goals to make up the entire complement scored by a team.