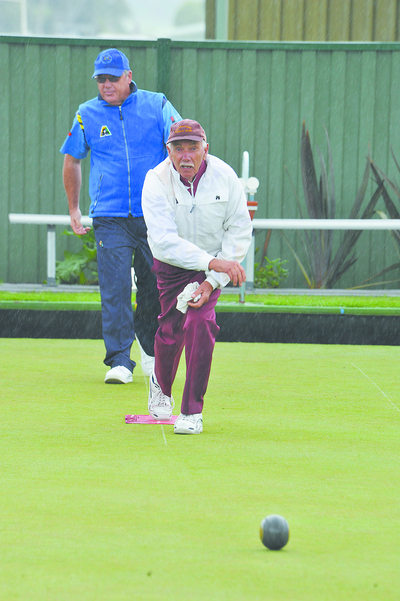 NO games were completed as rain played havoc with the West Gippsland Bowls grand finals across all divisions on Saturday.
However, play resumed on Sunday with all games completed.
In division one, Yallourn annihilated Traralgon with a 115/77 win.
Traralgon was never in the hunt and Yallourn jumped away to a big lead after only a few ends.
Traralgon temporarily closed the gap to about 20 shots until Yallourn lifted again to win the first West Gippsland Saturday division one pennant. This was Yallourn's fourth win in six seasons and left Traralgon lamenting again, without a division one win since 1994/95.
The Strzelecki region division one play off will be at Trafalgar on 17 March between Yallourn and South Gippsland winner, Phillip Island.
For the winners Kevin Lovett beat Abe Roeder 28/23, George Lambos completely outpointed Glen Scott 29/16, Josh McCormick downed Chris Ward 25/18 and Alan Grubb squashed Ross Sizeland 33/20.
Division two
The division two game in the morning at Yinnar was a close encounter.
Neerim looked to have the game well in its keeping after leading Yallourn by about 25 shots.
Yallourn rallied and closed the gap gradually until at the last end they were only four shots behind.
However Neerim remained cool under the pressure and hung on to win 94/91.
Division three
Traralgon took on undefeated Drouin and was fired up to do well.
The game was close all day and went right down to the wire with Traralgon hanging on to win 102/99.
Traralgon would be ecstatic with the win as it means it would still have a side in division two next season.
Division four
Trafalgar had held top spot all season.
The semi-final between it and Traralgon was close until the last few ends when Traralgon's older players tired badly.
However, in the cooler conditions it showed it was right up to the task and won the pennant comfortably 92/74, over a disappointed Trafalgar, who was keen to gain promotion into division three.
Division five
In division five at Yinnar, Neerim was in front against Garfield when play continued after Saturday's washout and went further ahead as the game progressed, winning 97/56.
Division six
Garfield also played off in division six where it met Morwell.
Morwell ran out easy winners 59/38 and would be delighted, as it has finally gained promotion into division five.
Division seven
Morwell (5) turned the semi finals loss into a win, beating Morwell (4) 46/38.
This is the conclusion of the pennant season with the pennants being shared among only four of the division's 18 clubs.
This week there is a major Triples event at Traralgon with play on Thursday and Friday. Some top players will be in action including Commonwealth Games medallist Barry Lester, along with several previous winners of the event.