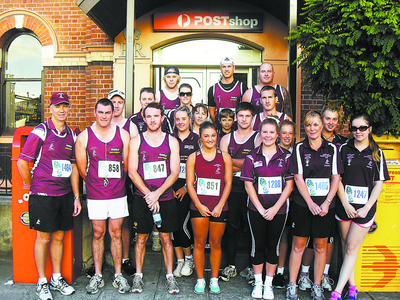 As part of a new campaign to get its players involved in the community, members of the Traralgon Football Netball Club competed as a team in the Latrobe Regional Hospital Run For Your Life fun run on the weekend.
Led by president Andrew Quenault, about 12 footballers, netballers and committee members tackled the course.
Club spokesperson Stacey Jennings said everyone involved had a lot of fun.
"Everyone did really well and they were happy to be down there," she said.
"We only found out about it at the last minute and we thought it would be good to get involved.
"Next year we hope to be able to do more as a club."
Football player Danny Campbell managed to come second in the men's 5km run, which the club was "very happy" about coming into the season.
Jennings said over the next year the club would be encouraging players to get involved in the broader community.
"The idea is that the club will become more involved in the community; for example, when the Blood Bank comes to Traralgon we're aiming to get players donating regularly," she said.
"We have a young group of players and we want to do this as a way of getting their families more involved as well, showing them that we're not just about football.
"We're also welcoming new members, from people who want to come and watch to those who want to be more involved, so this is another way of raising awareness of the club."
The club's season launch will be held on Sunday from 11.30am at the Traralgon Recreation Reserve, where its new jumpers will be on display.
"We've decided to go back to the original stripe," Jennings said.
In keeping with the club's new approach, live music will be played at its first home game on Saturday, 21 April.
"We're hoping it will be a bit of fun and encourage people to stick around and enjoy the social side," Jennings said.