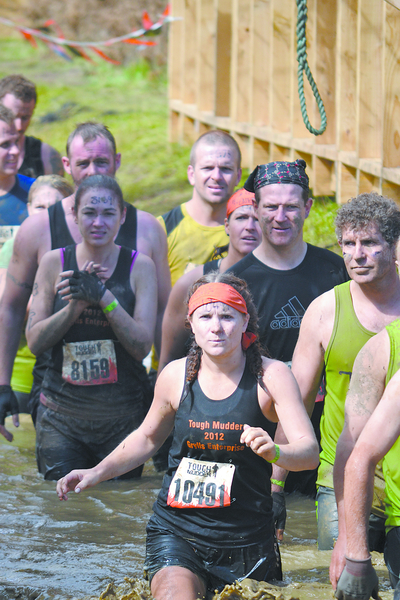 Electric fences, ice enemas and 10 metre walls were not enough to stop Bonnie Grylls and her team smashing through the 28-obstacle Tough Mudder assault course last Saturday.
The Express has been following the team's progress over recent months as they prepared to take on the 20-kilometre course.
"It was awesome, we had an absolute ball," Grylls said.
"Our team worked so well together, and the training that we did at the Summit helped dramatically.
"We got to obstacles that we saw other teams struggling with and just pushed through them."
Grylls confirmed the organisers' claim that teamwork was the key to completing the course.
"You had to do it as a team and we did that – if someone was lagging behind, we'd move to the side and re-group," she said.
Grylls Enterprise finished in around three and a half hours.
Although Grylls believed the day was well organised overall, she said a lot of time was spent waiting to get onto obstacles.
"With 15,000 people going through the course, there was a lot of waiting around; sometimes we were waiting about 30 minutes to get onto an obstacle," she said.
"We were lucky because we were early.
"At other times during the day teams were waiting around an hour and a half, so there were probably a few too many people on the course."
The event started with the Braveheart challenge, a run around the grand prix track.
Some of the obstacles that intrigued The Express were the fire running, electric fence sprint and the ice bath.
Grylls said the ice bath was the worst because it was around the 5km mark, leaving participants freezing for most of the event.
"The fire one was okay because it was just smouldering hay bales creating lots of smoke," she said.
"I didn't really feel any current through the electric fence, but there were people spraying us with water as we went through to make us feel it so there must have been something."
When asked whether it was the distance or the obstacles that were the focus, Grylls said the obstacles helped make the distance manageable.
"Just doing a normal half marathon is definitely harder," she said.
"Mentally, you're just looking at the pavement infront of you.
"With this, you can see each obstacle in the distance, so we tended to run to the obstacle and not think about the distance so much."
According to Grylls, Grylls Enterprise had so much fun they were all signing up for next year.
"I know some would even consider another one in Australia this year," she said.
"But regardless of that, we'll be back in 2013."