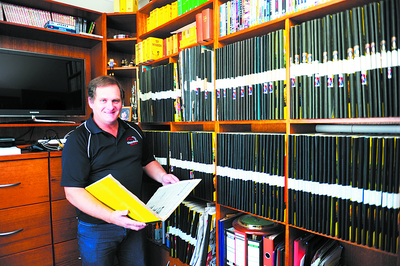 Moe's Paul Carter could be nicknamed 'Mr Statistics'.
Statistics are his passion; the newly-made custom shelves in his office are home to more than 100 scrap books containing detailed statistics of Gippsland football leagues past and present.
Carter has compiled statistics for the Gippsland League and its predecessors for about 40 years.
He is something of an identity in local football, with regular segments on radio and in the football records of the Gippsland and Mid Gippsland leagues.
The immaculately kept books include everything from the most goals kicked against a team, to the most tackles made in a season, and details about the marking and win-loss ratios.
Carter, who had always been interested in numbers, began collecting football statistics in 1969 when an interest was sparked by a seemingly inoccuous piece of information.
"I looked in the paper and saw that in a match between Carlton and Hawthorn, Carlton scored 30.30 (210)," he said.
"They were the first team to score over 200 in a match, and I thought it would be interesting to keep that little clipping."
From there, he started collecting more information about the Australian Football League.
Then in the early 1970s, he read a story in The Express speculating on how long it had been since Morwell had beaten Warragul at home.
"When I read that I decided to research it, and that's when I started collecting information on the Latrobe Valley League (now Gippsland League)," he said.
A few years ago, Carter took his interest to the next level, taking on the challenge of researching leagues that no longer exist, for example the Central Gippsland League (1908 to 1953).
"It took about two to three years to compile all the information," he said.
"I got it all from old newspaper clippings at the Morwell Library and the State Library in the city."
On that project he had some assistance from local football historians Laurie Williams and Bill Traill.
Although his primary passion is football statistics, Carter also boasts a sizeable collection of Wisden books, an annual publication of cricket statistics.
During the week, Carter teaches physical education and information technology at Newborough Primary School, a profession he said he loved, and he has never thought of swapping for a statistics-related career which he "liked having as a hobby".
Incredibly, not only did Carter have all this information on his shelves, he said most of it sticks in his head.
"Surprisingly if someone asks me something, it usually comes back to me pretty quickly," he said.