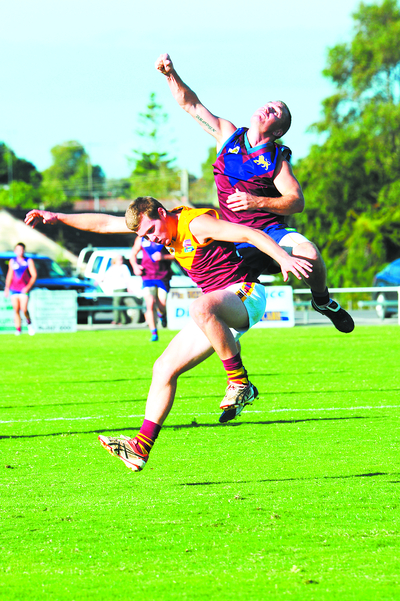 Traralgon, after an easy win over Warragul, faces a much-improved Leongatha in this week's Gippsland League match of the round.
The Parrots have won their past two matches at Traralgon and in their past 10 meetings, the honours are even.
The Maroons will be without Rohan Hore and Matt Middleton and may bring in one of their promising under 18 players to take on the ruck work.
Leongatha had an easy win over an inexperienced Wonthaggi Power, and against Traralgon will not have everything their own way.
Jamie Aitken, Jackson Hall and Dan McKenna are in fine form and the Parrots will need to shut down the ball getting to McKenna.
Will Thursfield was a bonus to the Parrots, and with Dwayne Holt and Hayden Browne seem to cover the loss of Nic Nagel. Holt won the Gippsland League goalkicking in 2009, demonstrating he is a proven goalkicker.
Morwell v Warragul
Morwell, after a disappointing game against Maffra, has an easier task this week against Warragul.
Tim Ryan and Jason Stevens are likely to play this week and Leo Brereton may be given another chance at senior level.
Ryan will give the midfield a lift and the Bailey brothers made a good debut to senior football, while Jesse Bowe has improved out of sight in the ruck.
The Tigers will not find the task easy as the Gulls are an enthusiastic young side that has improved on last year.
Ben Hughes will need to be kept in close check as he is capable of doing damage on the scoreboard.
Moe v Sale
Moe is a work in progress and has a tough task against Sale.
Against Drouin Moe stuck to the game plan but after half time it digressed. Sale annihilated Bairnsdale and Kane Airdrie will have his hands full against Matt Ferguson who is capable of tearing any defence in the league wide open.
Experienced forward Stuart Robertson will be missing for the next couple of weeks as he is overseas.
Robertson has had a good preseason and when he comes back will be welcomed at senior level.
Moe could give Geoff Atkinson a run in defence, as he was impressive in the reserves against Drouin, while Guy Harrison could be a chance on the forward line.
Peter Yates played a great game against Drouin but will need support from his other forwards.
The Moe forward line was wide open in round one but when the ball came down, Yates had to cope with at least two defenders.
David Crook may have to be replaced as he suffered a heavy knock as a result of friendly fire against Drouin.
Sale is a good side and only a super optimist would select against them this week.
Drouin v Maffra
Drouin is home to Maffra which will be tough for them.
Bob McCallum will be missing for a few more weeks while his broken collarbone mends and the team's flow-on style of football will need to be fine-tuned before they trouble the heavyweights of the competition.
Wonthaggi v Bairnsdale
The clash between Wonthaggi and Bairnsdale has a lot riding on it as both teams were disappointing in their first game of the season.
Both teams have new playing lists and will take a few weeks to settle down.
A win to either side would be a confidence booster, and the fact the Power are playing at home should give them the points.