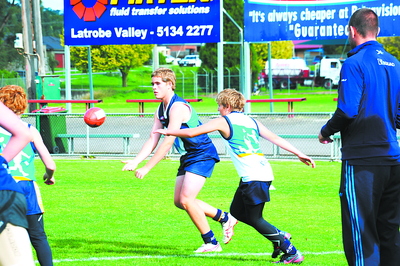 Some of Gippsland's finest young footballers came together last week for the Big V under 14 football training camp.
The Big V program began in 2010, after a gap in training and support was identified between the under 12s and under 15 TAC Cup squads.
Program manager Luke Casey-Lee said the aim of the program was to get young players thinking holistically about football.
"It's really an introduction to a range of concepts surrounding footy," Casey-Lee said.
"Aside from the camps, they look at things like nutrition, leadership skills and training methods, which are all important facets of not only football, but life."
Students go through a selection process in primary school, and enter the three-year program when they turn 12 years old.
The boys meet for camps twice per year, and in between they complete online worksheets and activities designed to help them with personal development.
Big V managing director and former Western Bulldogs star Rohan Smith hosted the Traralgon camp, assisted by Essendon's Scott Lucas.
The Express attended day one of the camp, while Smith took the boys through a series of drills focused on speed work and accuracy.
"Today we are working on kicking accuracy and after lunch we'll focus on running speed, while this morning we had a warm up session to teach them about warming up properly," Smith said.
"A big part of the camps is getting the boys to focus for two days solid on all aspects of their game and hopefully apply some of what they have learned through the e-learning activities."
Via an internet portal, students undertake activities during the year that cover topics from cooking to fitness, skills that are important to learn early, according to Smith.
"For example, one of the activities is that they download a recipe, use their pocket money to buy the ingredients and cook a meal for their families," Smith said.
"The idea behind it is that if they get drafted in the AFL (Australian Football League), they might have to go interstate or move away from home and this will hopefully teach them how to cook something other than instant noodles."
Andrew Yawney travelled from Beaconsfield with his 13 year-old son Dermott for the Traralgon camp, and said while the boys loved the camps he was not sure how much they were getting out of the online programs at this stage.
"I think it's a fantastic idea – but he (Dermott) is only 13, I'm not sure if he's really engaging with the online stuff yet," Yawney said.
"Hopefully as he gets older he'll take it on board, but right now I don't think he's seeing the benefit of it."
Warren Dickson, whose son Kirk was also involved, agreed with Yawney.
"I don't know how much Kirk engages with the activities, but he loves his footy and anything that gets him out on the field is great for him," Dickson said.
The second day of the camp included talks with Gippsland Power coaching staff and more training drills.
"If a couple of these kids go on to play TAC Cup that's great, but here we want them to learn skills they can apply to all areas of their lives," Smith said.