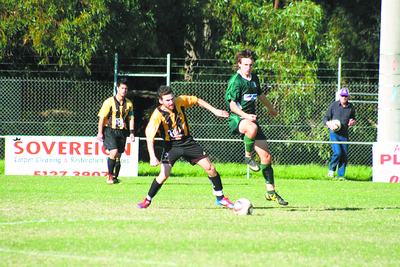 Reigning Gippsland Soccer League champions Fortuna staged a stirring fight back to get its title defence off to a great start, overcoming Traralgon Olympians 2-1 on Saturday night.
Olympians boasted new signings Frank Albanese and Kenny Higgins, but were without suspended play makers Clayton Bell and Tony Pardo.
Fortuna surprised all pundits with the return of Cameron Dunne and Andres Nilo to the Lion's Den after both players had previously confirmed their departures from the club.
The match started at a feverish pace with play switching from end to end and genuine chances for both sides in the opening 20 minutes going begging.
Olympians found the net soon after, when Michael Fava's long range effort deflected off the upright to fall into the path of Terry Panayiotou who deftly finished from close range.
The remainder of the first half was dominated by Olympians, with Fortuna having trouble getting out of its own half but the Blues only had a 1-0 lead to show despite their dominance.
Fortuna introduced Matt Coward at half time in a bid to counter Olympians' tall defenders, whilst Albanese continued to cause the Orangemen trouble at the other end.
With 12 minutes to play Fortuna's Hayden Tanti made a solo run and shot from the wing to beat a despairing Reid and deliver the Orangemen the knock out, finishing on 2-1.
Moe United v Newborough-Yallourn
Moe United dished out a harsh reality check to hosts Newborough-Yallourn in its round one GSL clash at Burrage Reserve.
The fiery encounter was the first for Moe's new coach Lee Dastey in the clubs 60th season.
The hosts started brightly on a warm afternoon but were soon chasing the game as Moe's Matt Shearing narrowly avoided the offside trap to open the scoring for the visitors with their first real foray forward in the match.
Much like the first half, Newborough Yallourn started the second term in positive fashion.
Dastey stepped up and dispatched the spot kick to double his side's advantage 2-0.
Midway through the half, Moe's Marc McHallam delivered an inch perfect cross to the back post where Dastey ghosted in unmarked to nod home from two yards, doubling his tally and rounding out a solid Moe win 3-0.
Churchill v Falcons
A seasoned Churchill side easily disposed of a youthful Falcons outfit 6-1 on Saturday night.
It took only two minutes for Churchill to go ahead when Dean Pyle pounced on a mistimed Falcons clearance.
From there it was one way traffic as Taylor Jackson in his first game back from injury scored and Jesse Kennedy followed up soon after as the Rams skipped to a 3-0 lead.
When in-form striker Kwaku Dade made it 4-0 the Rams looked unstoppable, Falcons were able to snatch a goal before the break through Julian Baccega after Churchill keeper Jason Sands was wrong footed.
Falcons withstood a barrage of attacks in the opening 15 minutes of the second half as the Rams ruthlessly sought more goals.
After weathering the storm, two Falcons defensive lapses allowed a clinical Churchill to bury a further two goals with Dade and Jackson completing a brace to run out big winners 6-1.
Monash v Sale
Monash claimed the points at home to Sale with a comfortable 3-1 win.
The Wolves opened the scoring early with keeper Mark Heatherington punting the ball upfield to Eric Sostak who out ran his opponent and slotted the ball under Sale keeper Chris Richardson.
The lead was doubled midway through the half with pocket dynamo Ash Birrell going on a run beating no less than five opponents before squaring the ball to Sostak who slotted home from 10 yards.
The game ebbed and flowed for the remainder of the half with both sides creating chances but unable to convert in the attacking third.
Monash came out strong in the second half and Sostak was denied his hat-trick with Richardson tipping his powerful header onto the crossbar.
The third goal eventually came with young debutant Tom Bramstedt measuring a pin-point cross to Daniel Abela who saw his initial header well saved before powering in the follow up into the net.
Sale gained a consolation goal late into injury time via an own goal after some good work from Nguyen put the Monash defence under pressure and the ball was headed into the net.
Traralgon City v Tyers
Traralgon City trounced Tyers Lightning 6-0 at home on Sunday.
The match kicked off at a frantic pace and it was City which took the lead after 13 minutes when recruit Adam Batt scored from just inside the box.
Koul soon made an impact to put the Roosters up 2-0 with a well crafted goal.
Adam Batt finished the scoring and completed his hat trick after a well-placed corner from his brother Andrew found him waiting unmarked at the front post to give City a comfortable 6-0 win.
Round 2
In the match of the round Traralgon Olympians will be desperate to defeat Churchill United at home on Saturday night.
The Blues will look to overturn their Battle of Britain Cup semi-final loss to the Rams with Clayton Bell and Tony Pardo back from suspension.
They come up against a Churchill side in red hot form and equally as desperate to stay in the winners circle which all bodes well for an entertaining match.
In other matches, all played on Sunday, Falcons will aim to dust themselves off against Monash, Newborough Yallourn host Fortuna, Traralgon City makes the trek to Sale and Tyers is at home to Moe United.