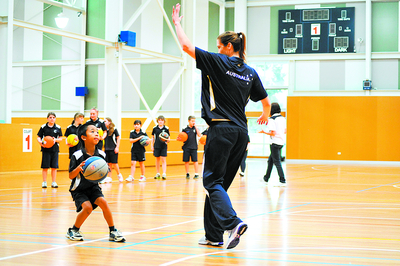 Basketball has taken Belinda Snell to places she had never dreamed of.
The 31-year old Opals star is currently in Melbourne preparing for selection in her third Olympic team.
"I've been based in Melbourne for a while now, training with the seven other Melbourne-based Opals players," Snell said.
"At the moment things are pretty intense with everyone training hard, because the squad is at 20 and it will be cut down to 12.
"But right now I'm feeling pretty fresh and good so far, so we'll have to see what happens at the camps."
From 13 to 30 May, Snell will participate in the Opals selection camp in Canberra and the official team will be announced mid-June.
Snell, who left her Mirboo North home at the age of 16 years to accept a scholarship at the Australian Institute of Sport in Canberra, said her first major burst of inspiration came after watching the Opals play at the Sydney Olympics.
"Just before the Olympics I moved to Sydney to play with the Sydney Flames, so I was lucky enough to watch all the games there," she said.
"That was when I really got the hunger to represent Australia and go on with my basketball."
Since then, Snell has been playing back-to-back seasons in Australia, the United States and Europe, including some time in Russia.
"Living in Russia was certainly an experience – a real eye opener," she said.
"I was in Moscow, and all the players had their own drivers because the road rules were crazy, I felt sorry for the drivers.
"It was also -20 degrees Celsius, so the ugg boots came in handy."
After all these years of travelling with the sport, Snell said she felt "incredibly lucky" to do what she loved and see so many interesting places.
Although she does not expect to "be playing for too many more years," after London Snell will decide what she wants to do.
"At the moment I'm just focusing on London and doing everything I can to get on the team," she said.
"I have a few options, but I don't want to rush into anything."
In between her travels, Snell tries to come back to Mirboo North as much as she can.
"I try and come home as much as possible, especially now I have little nieces and nephews running around," she said.
Recently, Snell was at the Latrobe Leisure Churchill to promote the Youth Pacific Basketball Championships that will be held at the venue later this year.
"I'm always excited to help advance basketball in the area," she said.
"Playing in the local tournaments around here with my school friends are some the best memories I have."
Students from Churchill North Primary School were wowed by Snell's slam dunks and even got the chance to play her one-on-one.
When one keen youngester asked her "have you won all the basketball games you've ever played?" Snell said "not exactly", but she hoped the Opals could top their silver medal from Beijing and take the gold medal in London.