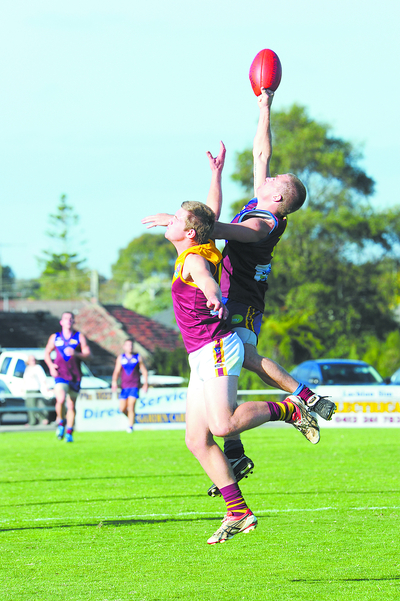 THERE is a lot at stake this Sunday when traditional rivals Moe and Morwell meet at Ted Summerton Reserve in round five of Gippsland League football.
The Tigers are sitting ninth on the ladder and have recorded only one win against Warragul, while the Lions sit at the bottom without a win to their name.
According to statistics, Moe has had the better of Morwell in recent times, winning 11 of the past 14 encounters.
Morwell's last win at Moe was in 2004.
The Latrobe Valley neighbours have faced off since 1932 and the rivalry was as fierce then as it is today.
While the Lions were soundly beaten by Traralgon last week, positions on the ladder count for little when Moe and Morwell play each other.
Both teams lack the firepower at the moment to be considered a final five proposition but it is not too late for the Tigers to improve.
Moe received a boost when Ryan Donaldson took to the field last week and kicked three goals.
He could have doubled that figure if the onballers had been more efficient.
Morwell should win and will gain the confidence to meet undefeated Sale the following week.
Following the match against Sale, the Tigers will regain the services of Geoff and Tim Ryan.
Sale v Traralgon
Match of the round is between last year's premiers Traralgon and undefeated Sale in a night match at Sale.
Last week Sale's unblemished record almost came unstuck at Wonthaggi when the Magpies delivered a poor second half performance.
Sale was able to sneak home by 16 points while Traralgon disposed of Moe.
The Maroons have their share of injuries but have the depth to cover those players.
Sale's potent forwards, led by coach Matt Ferguson and Kane Martin, will test the solid Traralgon defence led by Jaimie Aitken and Matt Jones.
Ryan Pendlebury has been in terrific form at half-back and Corey Scholtes and Brenton Martin are valuable players.
On its current record Sale should overcome Traralgon.
Bairnsdale v Maffra
Bairnsdale has won two-in-a-row and is looking to improve its poor percentage against Maffra this Saturday night.
The Eagles have lost their last two games.
Maffra was competitive against Leongatha last week until half-time.
At home the Redlegs should record their third win of the season.
Leongatha v Warragul
Unbeaten Leongatha is home to Warragul and the Gulls' form this year has improved.
Against Drouin on Sunday, Warragul was in front for the first three quarters but was eventually overpowered.
The Parrots have demolished their opponents with ease and the return of Dwayne Holt has been a bonus for the Parrots.
Holt has 17 goals to his name and his second on the goalkicking ladder.
This is the last round before Gippsland plays Bendigo at the Queen Elizabeth Oval on Saturday, 26 May.