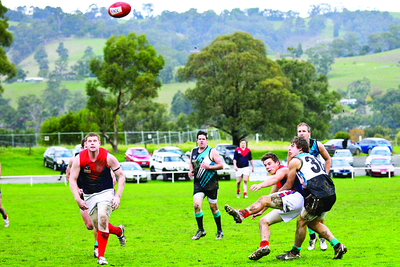 GOING into the break, only Trafalgar remains undefeated, with Newborough going down to the mighty Tigers.
Trafalgar has claimed top spot with a triumph over Hill End 11.15 (81) to 7.8 (50).
Trafalgar was switched on from the start, but from 12 scoring shots only kicked two goals, leaving the Hillmen in with a chance at quarter time.
The Bloods led by just a goal at half time and the third quarter began with a Hill End behind before the Bloods kicked two goals.
The Hillmen gained some momentum and then kicked two goals in swift succession; however, the Bloods were quick to reply with a goal and then kicked four more to take the lead out to 37 points.
While Hill End outscored them by a goal in the last quarter, Trafalgar's third quarter performance had set them up for the win.
Hill End Coach Josh Tymenson said his side cannot afford to allow teams like Trafalgar to get in front by so much.
"When you're playing against a quality team, you've got to hit them hard," Tymenson said.
"You've got to try to get them off their game any way you can and I thought at times we did, but not on a consistent basis."
Bloods' coach Chris Kyriacou said he thought those doubting Trafalgar's ability have been motivating his side to prove them wrong.
"We felt tested, especially outside pressure this year (with) people writing us off," Kyriacou said.
"That's really spurring us on."
Newborough v Mirboo North.
Mirboo North has taken the surprise victory of the round beating in-form Newborough by 20 points 15.9 (99) 12.7 (79).
Tigers' coach Troy Hamilton was happy with his side's performance, but thought they did not have a great start and they can still improve.
"I think we got a little bit harder at the footy (half way through the second quarter), but I think also we started to back our skills a little bit," Hamilton said.
"Instead of blazing away we used our skills."
Both sides had some big outs, including Newborough's ruckman Chris Hancock.
Andrew Philip, who has stepped into the role was Newborough's best on ground and the contest in the ruck was fairly even.
However, Mirboo North won some crucial stoppages in the last quarter when the game was on the line.
Yarragon v Boolarra
Boolarra earned another win this week, but only just fought off the Panthers 11.12 (78) to 10.7 (67).
It was a close match all day with the margin no more than 14 points at the breaks.
The home side was down by just two points at three-quarter time, but could not hold onto a lead.
Yarragon will welcome the week off, with a chance to regroup and more time to get players back from injury.
Thorpdale v Morwell East
Morwell East's convincing win over Thorpdale has kept them in touch with the top five, remaining in sixth spot.
The Thorpdale boys were competitive until half time but from then skill errors really hurt the side and allowed the visitors to widen its winning margin to 92 points.
The final score 17.26 (128) to 5.6 (36).
Yallourn-Yallourn North v Yinnar
Yinnar got up over Yallourn-Yallourn North with a stellar second quarter that set them up to win 10.8 (68) to 9.5 (59)
YYN got off to a great start, with a three goal lead at quarter time; however, Yinnar fought back and then led by two goals at half time, which they managed to hold onto for the rest of the match.