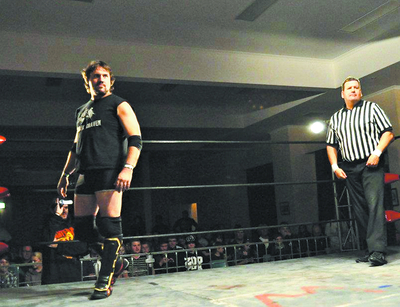 IF you want to learn the art of pro wrestling, Newborough is the place to be.
Since beginning in January this year, Gippsland Pro Wrestling has become so popular operator Joel Bateman has opened a training school with fellow wrestler Andy Rhodes
"At every match people were coming up to us and asking 'how do I become a wrestler?'," Bateman said.
"We had a bit to sort out, but we've been going for about a month now and all the students are progressing well."
Bateman said unlike other wrestling schools he had been involved with, he and Rhodes focused on the "foundations" of wrestling.
"A lot of other schools focus on the showmanship side of wrestling," Bateman said.
"In a normal session, we start off with stretching and cardio, then move into basic wrestling moves like holds, bumps and sequences.
"At the school I was involved with in Canberra, a lot of the students could do fancy backflips off the ring, but can't do a hold for example."
The school currently has seven students and holds training sessions twice per week.
According to Bateman, the students all have their own goals and the school's aim "is to help them achieve those goals".
"We've got one guy who has come to us from a Muay Thai kickboxing background, so we've had to teach him how to make it look like he's kicking people rather than actually kicking them," he said.
"Then we have Max King who's been wrestling for a few months but has come to hone his skills and he's come a long way."
Eventually, Bateman would like to see his students become regulars on the GPW fixture.
"I'd like them to become regulars here, but some of the guys want to compete in Australia and even in the United States as well," he said.
Bateman said the training sessions were open to men and women of all levels, including novices.
Sessions are held at the Ukrainian Hall in Balfour Road, Newborough.
For more information contact Joel Bateman on 0422 019 365.