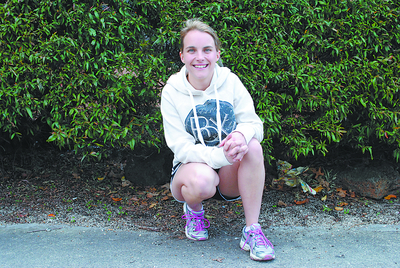 YINNAR'S Hannah Mills never saw herself as a runner.
Despite being an active netballer, Mills always "doubted" her running ability and when she joined the Traralgon Harriers last August, she could "hardly run around the block".
"I'd always played netball and I went back to that last year just before my youngest son turned one (year-old)," she said.
"I decided that I should get a bit fitter and a friend suggested I try running.
"I kept saying 'no, no, no' I can't do that, but after starting with a walk, by the time I moved up to jogging I was hooked."
After years of playing netball, Mills said she enjoyed the fact running was "just for yourself" and found the Harriers an "incredibly supportive" bunch of people.
"Team sports are great and I love netball, but this is different," she said.
"With this it's just you competing against yourself, no one else."
"All the people I met at the Harriers, right from the start when I could hardly run, were so encouraging; the social side of it is fantastic."
Other aspects of running that appealed to Mills included being able to "do it anywhere" and the low entry costs.
"All you need is a pair of runners," she said.
"And you can run out your door at any time that suits you; it fits into your schedule completely."
The mother of three said all her children were "very proud" of what she had achieved, and her two older boys sometimes accompanied her on training runs with their pushbikes.
This weekend, Mills will "attempt" the half marathon as part of the Traralgon Harriers running festival, something she did not imagine herself doing nine months ago.
"With running, it's all in your mind," she said.
"You can actually do it, you just have to push through those mental barriers.
"I always said 'I can't' but that's not right; I can."
The Traralgon Harriers running festival takes place this Sunday.
Events include a quarter, half and full marathon as well as a walk.
According to organiser and club member Will Hanrahan, record crowds were expected this year.
"We've had people from Warrnambool through to Orbost who have entered," Hanrahan said.
Entries for all events close this Friday and for more information visit www.traralgonharriers.net