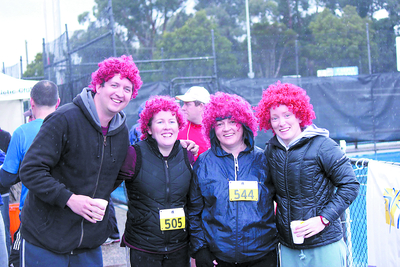 WINTRY conditions did not deter the 533 runners who competed in the Traralgon Harriers running festival on the weekend.
People came from around Victoria to compete in the marathon, as well as the quarter and half marathon events.
Harriers spokesperson Will Hanrahan said the club was "absolutely delighted" with the turnout.
"A few people didn't turn up on the day, probably because of the weather, but we had so much positive feedback, it was fantastic," he said.
"The main difference was the atmosphere.
"To have such a large group to run with, and the grandstand full of people cheering just made the enjoyment of the event so much greater."
Other positive feedback related to the presence of "portable toilets" around the course, the food that was available to runners free of charge and showers.
According to Hanrahan, there was an increase "of around 240 per cent" in the number of entrants from last year, including a jump in the number of people from outside Gippsland.
"This is the first year we've been involved with the fundraising side of things, which I think had an impact and the response was really good," he said.
"We also did a lot more publicity, and the fact the Williamstown marathon didn't go ahead probably helped as well."
John McKenzie won the mens marathon, breaking the record of five consecutive victories, taking his total to seven.
Hanrahan said the club would be putting together a formal assessment of the event this week, and would have to consider how to manage the large increase in numbers for the future.
Hanrahan also said the event could not have taken place without the dedication and assistance from around 90 volunteers.
"The volunteers are great; they were from the Harriers as well as the local community, and they did a fantastic job," he said.
Results, marathon, men: John McKenzie 2.41.54, Daniel Pelly 2.44.38, Jason Sim 2.49.16; women: Athene Chariot 3.04.48, Tracey Morrison 3.15.03, Jennifer Northe 3.24.38; half marathon, men: Keith Colomb 1.16.25, Stephen Rennick 1.17.07, Ian Cornthwaite 1.18.21; women: Kylie Murray 1.21.42, Lynda McRae 1.26.21, Raeleigh Harris 1.27.16; quarter marathon, men: Brendan Whealan 36.27, Steven Quirk 37.03, Des Paynter 37.27; women: Claire Hodgart 43.27, Jayne Dean-Collins 45.43, Debbie Pavey 45.55; team quarter marathon, men: The Dooffa's 2.44.19, Maryvaley Fire Brigade 3.06.05; women: St Patrick's Stratford 3.56.53, Noah's Ark 4.19.55, Twisted Sisters 4.30.15; mixed: Team Shermanator 3.44.45, Healthy Gippsland Runners 3.57.47, Team LCHS 4.01.25.