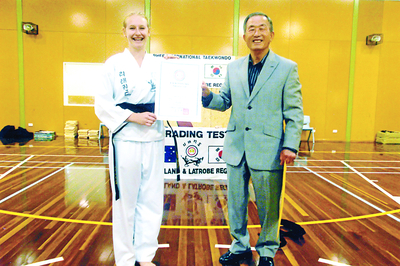 IT is probably not a good idea to get on the wrong side of Moe's Virginia Gratton.
Last September, Gratton achieved her first-dan blackbelt in Tae Kwon Do but had to wait until March to receive it.
"The presentation was scheduled for my wedding day in December, so I had to hold off," Gratton said.
During the grading process, the 20 year-old had to break boards and tiles with her hands and feet as well as "quickly and accurately" complete numerous "patterns" as instructed by Master Rhee of Rhee International Tae Kwon Do.
"Over about three hours, Master Rhee instructed me on different things to do; patterns, kicks and some non-contact sparing with other black belts," she said.
"It was pretty full on, but I'd been training three to four times per week leading up to it, so I was ready."
As of January this year, the accounting assistant had to forgo her busy training schedule due to other commitments, but has recently gone back to training.
"I started again a few weeks ago, and it's great because it's really good for fitness and flexibility and I'd lost my fitness quite a bit," she said.
Gratton started Tae Kwon Do eight years ago after her mother suggested she try it to correct her posture.
"I used to slouch when I walked and mum thought this would help, which it did," she said.
Her next progression will be the second-dan blackbelt and to do this, Gratton will have to train consistently for another three years.