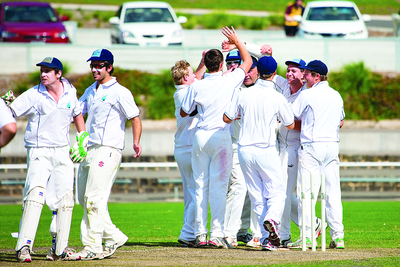 Cricket in Gippsland will be going under the microscope this Sunday.
George Munro, president of Cricket Victoria's region seven, has organised a Gippsland Cricket League forum for players past and present to discuss the state of the game in Gippsland, and "bring ideas to the table" regarding how the sport is administered across the region.
"It'll be an all-day session, basically to talk about all things pertaining to cricket in Gippsland," Munro said.
"Every area will be covered – seniors, juniors, women's, all abilities; how they are run, what style of game they play.
"Representatives from Cricket Australia, the VCCL (Victorian Country Cricket League) and Cricket Victoria will be present, so it'll be a pretty full on forum but I think it needs to happen."
According to Munro, over the past 20 years cricket had undergone some fundamental changes with the introduction of 50-over cricket and more recently, Twenty20.
"There are plenty of guys over the age of 50 who want to see the game played as it was when they played," Munro said.
"But times change and the point of this is to really ask the players how they want to play, and if the majority want something then we're happy to do the administrative part and get that up and running."
Munro was also open to the possibility of the majority wanting to maintain the status quo which he said "was absolutely fine" but "at least they've had the chance to tell us (what they want)".
Some ideas Munro wanted to cover included the administrative side of women's cricket in Gippsland, the practical arrangements for Access All Abilities cricket and the presence of Twenty20 in competition structures.
Munro acknowledged a broader range of recreational activities competed for people's time these days, and another aim of the forum was to understand how players could be retained.
"If we're losing cricketers at any level for whatever reason, we want to know why and try and come up with ways to keep them in the sport," Munro said.
"For example, if there's a vibrant basketball competition played on Fridays and kids are playing that instead of cricket, we're happy to move training and game days to accommodate that."
Munro emphasised the forum was not merely "lip service", but a genuine opportunity for people to share ideas on how the game could be "improved" in Gippsland.
"We want people who've played the game, life members, current players, presidents, previous presidents," he said.
"Anyone who is interested in the future of cricket in the region is welcome to come and share their ideas."
The day will be convened by John Harris from Cricket Victoria.
The meeting will be held at Dal Mondo's, Traralgon from 10am.
For more information phone George Munro on 0438 595 205.