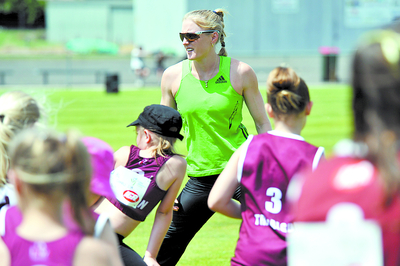 The Gippsland Gift is unlikely to go ahead in 2012, after last year's event in Traralgon failed to attract crowd numbers.
Around 1000 people attended the Traralgon race day, down on 2000 which turned up to the inaugural event at Woodside in 2010.
Chris Giannopoulos, executive director of the race's organiser Croc Media, said the event "won't necessarily be cancelled forever" and this was "more of a postponement".
"At this stage it looks like we won't be going ahead with the gift this year," Giannopoulos said.
"Unfortunately the date that was available to us just before Christmas isn't ideal for running a major event."
According to Giannopoulos, other proposed dates clashed with the Athletics Australia Grand Prix calendar, making it difficult to attract professional athletes.
"We also looked at options like mid-week dates and changing the format, but it was going to be hard to get athletes down during the week," he said.
"None of the options were really viable, but we did try to be as creative as we could."
Giannopoulos said Croc Media created the event because staff believed Gippsland was a large area that did not host many major events.
"If there was a window within the Victorian Athletics League calendar we would certainly consider it again in the future, but a big part of running it is attracting an athlete like Sally Pearson," he said.
"Croc Media does a lot of media-based work and programming around regional Victoria, so we're keen to support regional events and certainly aren't pulling the pin on the event forever."