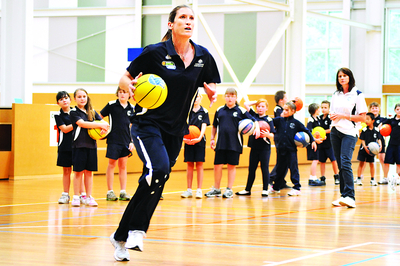 AFTER landing three consecutive Olympic silver medals, former Mirboo North basketballer Belinda Snell is more than ready to earn the top prize.
Being re-selected for the Australian women's basketball team, the Opals, last week, Snell said despite going into the London Olympics as top contenders, for gold, they were not taking anything as given.
"I know it's a cliche, but we really are just focussed on the first game at the moment; it really will be a difficult one for us," Snell said.
With a blockbuster first match against home team Great Britain late on 28 July, Snell said the Opals would have their work cut out from the opening round.
Speaking to The Express on Monday, in between exhibition matches against Brazil as part of the Australian basketball 'Farewell Tour', played out in Melbourne, Bendigo and Geelong, Snell said the newly-announced team was getting some much needed high-profile practice.
"It's been wonderful to have such great competition to come out to Australia and provide such great preparation for us," Snell said.
After 12 years playing at the professional level, Snell, 31, is at the "older end of the team", and said she was learning to work through the physical demands of international competition.
"As you get older you definitely have to read your body a lot more, but I feel as though I can still compete at this level," Snell said.
"It's just a mental thing for me; staying confident and having the belief in yourself … as you get older you kind of realise how much harder you have to work to get this far."
For Snell's older brother Matthew, the re-selection came as no surprise.
"It's terrific for her; she's worked really hard for the last 12 years, and it's great to see her actually make the team at this stage in her career," Matthew said, adding it would "more than likely" be her last Olympics.
However Snell laughed this off as speculation, and said he did not know what he was talking about.
Snell will be returning to the EuroLeague Women to play for CCC Polkawice in October, in a 'high demand' season consisting of two games per week across Europe, aided by a private team jet.
"Even though I've travelled the world playing, whenever I get home to Mirboo North, I still feel like a country girl," she said.
Starting out as a junior in her Mirboo North team, before joining the Australian Institute of Sport in Canberra at the age of 16, Snell said grassroots basketball was as important as ever.
"I just always loved playing; I still see all my friends that I have playing there, and it's heaps more important to enjoy your basketball; it's those early times playing which after all these years are still the most memorable," Snell said.