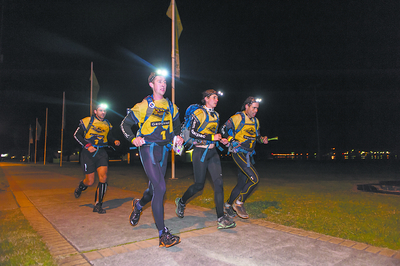 Team Macpac, led by the adventurous Rob and Kathryn Preston of Delburn, defended their Mountain Designs GeoQuest adventure racing title recently.
The team came home strongly in a time of 35 hours 17 minutes, racing from behind to win the title from Peak Adventure, who finished in 37 hours and 44 minutes around the Main Beach, New South Wales course.
During the race competitors were required to run, kayak, hike and mountain bike.
Rob said all four team members were "really happy" with how they raced, but admitted it was not easy going.
"One of our teammates Damon (Goerke) cut his leg on an oyster very early on, and as it turns out his leg was in pretty bad shape," Rob said.
"At the end of the race he had to go to hospital because it got infected, and they only let him out on the promise that he would check into a hospital when we got back to Melbourne.
"He hid it pretty well; I don't think any of us realised how bad it was, including him."
Rob said the competition was "very tough" and confirmed the team was pushed to the limit, especially in the first 12 hours of the race.
"After that we hit the lead and were able to stay consistent," he said.
According to Rob, the toughest part of the course involved a five-hour trek which was followed by a seven-hour mountain biking leg.
"We were pretty lucky with the weather," Rob said.
"It didn't rain until after we finished, so I think some of the other teams got hit pretty hard in that respect."
For the rest of the year, all four members of the Macpac team will be concentrating on individual events, including the New York Marathon.
"Kathryn's got into the New York Marathon, so that's something I might look at too," Rob said.