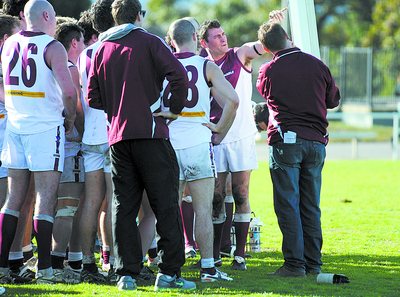 LAST year's premiers Traralgon will face a daunting challenge when it takes on this year's premiership favourites Sale.
Traralgon had strong second and third quarters against Moe last week, but struggled in the first and last quarters.
The Maroons had a few players out against the Lions, but will have plenty to select from this week including Gippsland Power representatives as the Power have a week off in the TAC Cup.
With the return of Jordan Symons, Dan McKenna, Sam Dunbar and Jackson Hall, Traralgon will be near full strength for this crucial clash.
Sale, like most Gippsland sides, will also have Power players at its disposal this week.
Key midfielder Luke Collins is in doubt after spending the night in hospital on Saturday.
One of Traralgon's problems will be how to penetrate the Magpies' defence of Chris Laverty, Jordan Dissent, Shane Fyfe and Ryan Pendlebury.
Lee Stockdale, Tom McQualter and Dan McKenna have been kicking goals for the Maroons and will need to be at their best this game.
Sale coach Matt Ferguson is a key forward and Brendan Rathnow has kicked 10 goals in the past two games for the Magpies.
This will be a great contest and Morwell has proved that Sale can be beaten, but perhaps not this week.
Morwell v Moe
On Sunday Morwell has the chance to get back on track after drawing with Bairnsdale last week, and against Moe the Tigers will need to be on the ball from the start.
The Lions' record against Morwell is impressive, having won the past three matches in close finishes.
Since their last meeting Morwell has toppled the top sides, but seems to struggle with sides below it on the ladder.
At this stage of the season another lapse in concentration could be costly for the Tigers.
Moe will be without James Blaser for several weeks depending on the result of a scan this week on a troublesome knee.
Fellow midfielder Gary Blandford is unlikely to play this week and Jacob Wood hopes to return, while Morwell has no serious injury problems.
Both coaches Damien Kerr and Jason Macfarlane are well aware of the importance of these matches and both teams will be primed.
Leongatha v Warragul
A confident Warragul travels to Leongatha in an effort to become a giant killer but looks to be outclassed.
The young Gulls will most likely be able to keep up with the Parrots for at least three quarters, but now that Leongatha has settled after a few dramatic weeks they may not be strong enough.
Wonthaggi v Drouin
Wonthaggi Power must win this week against Drouin to keep its final five chances alive.
The Hawks are no longer a finals chance, but are more than capable of upsetting the applecart before the season ends.
Maffra v Bairnsdale
On Sunday, Maffra hosts Bairnsdale and the Eagles will be keen to maintain third spot ahead of Morwell, Traralgon and possibly Wonthaggi Power.
Against Morwell, the Redlegs had the game won until a free kick on the siren gave the Tigers a chance to share the points.
New coach Mel George would like to go one step closer and win his first match for the Redlegs but the Eagles look to be too classy.