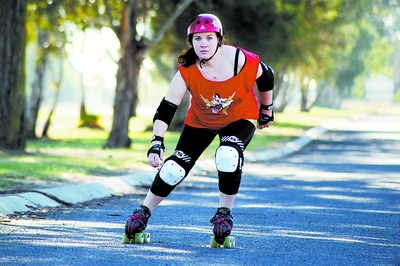 AFTER months of waiting, the Latrobe City Roller Derby League has confirmed its next home bout.
On Saturday, 18 August the LCRD will take on the Witches of East Vic and skater Katie "KBoom" Bloomfield cannot wait.
"They've been around for about the same time as us… they've bouted four times and we've done it twice and once as a combined team, so it should be a fairly even match up," Bloomfield said.
The combined team Bloomfield refers to is the Mega Death, a team made up of LCRD and the North Side Rollers, another new team on the Victorian roller derby circuit.
In June, the Mega Death bouted against the experienced South Sea Roller Derby League and lost by a respectable 61 points, 209 to 148.
On the day Bloomfield bench managed the team, and said everyone involved was "very happy" with the result.
"We were losing by more than that in the first half because the girls were really struggling to come together as a team," she said.
"But in the second half it came together a lot better; before the bout a few girls came down (from NSR) to train but we hadn't skated together as a team at all, so the first half was like a warm up."
The 18 August is not a combined bout, and Bloomfield was looking forward to "hopefully" having some more eligible skaters available by that time.
"This weekend we have more testing, so if it all goes according to plan it will take us up to nine bouting skaters which means we're closer to being able to field our own team without having to borrow from other leagues," she said.
The LCRD currently has six bouting members.
Bloomfield hoped the upcoming bout would provide not only exposure for the skaters, but create some interest in September's fresh meat intake for new skaters.
"We got really good numbers (at fresh meat) after our last bout," she said.
Although Bloomfield has been training for derby for two years, this will be her first bout because she was unable to skate during her pregnancy.
"I'm super excited; we're just hoping to pull it together as a team and have some fun."
The bout will be held at Stadium 34, Moe on Saturday, 18 August at 7pm.
Doors will open at 6pm.