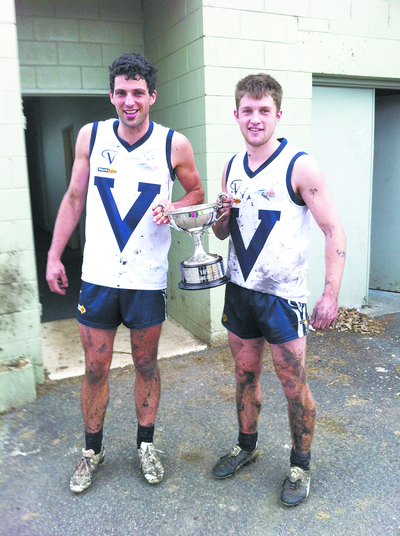 Gippsland boasted three players in the Victorian Country under 19 team that defeated its metropolitan counterpart recently.
Traralgon's Jordan Symonds and Jack Doderico joined Sale's Ryan Pendlebury in the team that had a convincing 50-point win over the Victorian Amateur Football Association at Elsternwick.
Symonds, who had "not even thought about" selection, said the squad was chosen based on performances in local competition.
"(The team) started out with 54, and the final team was chosen in the week before the match," he said.
Symonds admitted it was a bit "different" playing in a side that had not trained together properly, and he said some players coped with the situation better than others.
"We came down to Melbourne on the Saturday night, and had a talk from the coach," he said.
"We also got to hang out a bit, which was good; some players were a bit shyer than others and that's where you just had to introduce yourself and come out of your shell a bit."
On the day, the forward changing rover said the conditions were "pretty ordinary", but was happy with his and his fellow Gippslanders' performances.
"They had the wind the first quarter, and we kept them goalless while we kicked two against the wind which gave us the headstart," Symonds said.
"It was pretty even at half-time, and similar in the third quarter as well, but in the last we kicked about five or six with the wind which won us the game."
Pendlebury was named in the side's best, while Symonds and Doderico will be eligible for selection in the team next year. The final scores were Victorian Country Football League 12.14 (86) defeated Victorian Amateur Football Association 4.12 (36).
Closer to home, Symonds was more circumspect about Traralgon's position in Gippsland League football coming into the serious end of the season.
"We could be higher, it's been pretty up and down for us," he said.
"I think we've lost a few we should have won, and we really need to win the last few games of the season to hold onto that finals spot."