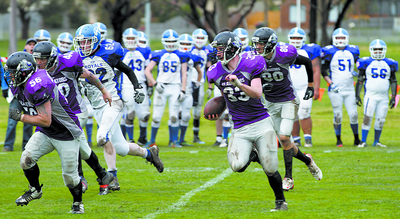 Gippsland's finals chances suffered a setback on Saturday, when it recorded its first division two loss at home in the Gridiron Victoria American Football League.
The Gladiators went down to the top of the table Melbourne University Royals, 32 to 13.
Knowing their season was on the line, the Gladiators came out hard from the first whistle, forcing a fumble on the Royals' first offensive series.
Two plays later, quarterback Buck Buchannan hit Chane Davidson with a short pass, and behind some key blocks Davidson weaved his way between traffic for 70 yards to score the game's first touchdown.
Shocked by the ease which the Gladiators scored, the Royals stepped up their offensive intensity.
Michigan-native Blair Black showed why he was considered the division's best quarterback as he squeezed bullet-like passes through the Gladiators' tight defence, eventually tying the game with a short pass to his wide receiver.
Undeterred, the Gladiators' offence took the lead in their third series, with Buchannan again hitting Davidson on a long pass along the sideline and he took on several defenders to score in the corner, putting his touchdown total up to five for the season.
More importantly the Gladiators had regained the lead, ahead 13 to seven.
The Royals continued to pass, but cornerbacks Riley Legg and Codee Hopkins broke up several plays; however, as was the theme for the majority of the game, the Gladiators struggled to stop the passing game of the Royals, and went into half-time with the scores at 13-all.
In the second half, the Gladiators went against their normal trend of being a better team in the second half, and was soon down 20 to 13 after a weaving run from the Royals' running back.
Sensing the game was on the line, the Gladiators needed to step up when their offense had the ball, and fullback Paul Ballinger and Davidson moved the ball easily along the ground.
But the Gladiators' passing game began to crumble, with Buchannan throwing three interceptions on three consecutive series, giving the Royals prime field position.
The Royals soon went up 26 to 13 after loading the left hand side of the field and finding a mismatch in the Gladiators' secondary.
Even after interceptions from Don Veale and a fumble recovery from Matt Wells, the Gladiators could not get the score they needed.
After taking some gambles the Gladiators eventually went down 32 to 13 when Blair threw his fourth touchdown pass for the game, completing a 50-yard bomb to his wide receiver who outran the Gladiators' secondary.
With a record of three wins and six losses, the Gladiators must defeat the Northern Raiders in week 14 to have any chance of being in the 2012 finals.
The Gladiators' next game is an interdivisional bout against the Croydon Rangers, which currently hold a 4-4 record in division one, on 29 July in Parkville.