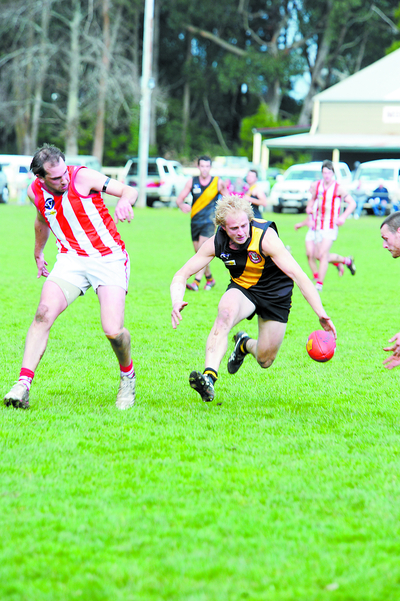 With four rounds remaining in the Mid Gippsland Football League season the battle for a finals spot is heating up.
There are four teams in contention for fourth and fifth position and the top three arrangement are yet to be settled.
Yinnar v Yallourn Yallourn North
Yallourn Yallourn North coach Tony Price believes his team can make the finals, despite facing the top four teams in the final run home, beginning with this Saturday's clash against Yinnar.
"If we can't win two of those games then we don't deserve to be in the finals anyway," Price said.
"We know we can play good football; we just need to take our best game into it."
The Bombers' aim was to win five games in the second half of this season, and this weekend could be number five.
Yinnar has slipped back into the pack of teams contending for fourth and fifth spot, following last round's loss.
In the reserves this weekend, YYN football club president Rohan Bounds will play his 400th club game.
Mirboo North v Newborough
Mirboo North coach Troy Hamilton has worked on his team's fitness ahead of this weekend's match against ladder leaders Newborough.
"We should have a good side rearing to go; hopefully the boys want to hit back (after the loss against Trafalgar)," Hamilton said.
"That was our first loss at home for the year, so we don't want to make it a habit."
The Tigers upset Newborough earlier in the season, halting the Bulldogs' opening winning streak.
Mirboo North had its own winning streak dashed by Trafalgar last week, while the Bulldogs' haven't lost a game since they faced the Tigers.
Both sides have impressive depth and a lot of players capable of scoring goals and it should be a close match.
Boolarra v Yarragon
It will be the battle of the juniors when eighth-placed Boolarra and ninth-placed Yarragon face off this weekend.
The Demons have fielded thirds players Jesse Giardina, Sam Mazou, Josh Anderson, Jack Battersby and Tim Dowe in the past few weeks.
Their opponents have included junior aged players in their side all year with Mitch Jolly, Jake Cropley, Joel Kilday and Sam Cougle among their best players.
Yarragon coach Shaun Kleeven said it was great the way the young players were developing.
"The young kids are learning more and more all the time and getting better each week," Kleeven said.
Morwell East v Thorpdale
Morwell East has a chance of stepping up to fourth place this weekend when it faces Thorpdale, but this depends on the results in other matches.
The last time the two met the Hawks recorded a big score against the Blues and another one this weekend would be a handy percentage boost.
To stop this from happening, Thorpdale must back-up the competitive first half performances it usually puts forward, with an equally intense second half.
However, this is something the Blues have struggled to do this year.
Trafalgar v Hill End
Hill End has a tough task ahead of it when it encounters in-form Trafalgar this weekend.
Bloods coach Chris Kyriacou said the last games heading into finals would be about showcasing what Trafalgar was capable of.
"Everyone we play from now on is possibly going to play finals so we really want to send… the league a message of what we're all about," Kyriacou said.
Trafalgar's fitness proved the key in winning last week's match and the Hillmen will have to match their run to win this weekend.