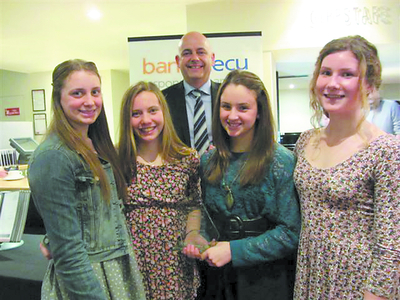 TWIN City Archers Gippsland was named club of the year at the bankmecu Gippstar Awards for 2011/12.
At a ceremony held at Waratah Restaurant last week, Twin City Archers Gippsland's Peter Bennett accepted the award.
He acknowledged the hard work of the small but dedicated committee which he said was relentless in its endeavours to see the club continue to forge ahead.
Traralgon Swim Club and Sale Netball Association were also nominated for the club of the year award.
The Traralgon Swim Club's 14 and under 50 metre freestyle team was named team of the year for its outstanding record-breaking swim.
In December last year, the team broke the long-standing Australian record held in that event.
The team was represented by Georgia Tsebelis, Maggie O'Keefe, Erin Roberts and Taylah Da Ros.
Poowong Netball Club's Janis Mackay, Trafalgar cricket stalwart Graeme Rankin,Warragul badminton player Jean Nielsen and table tennis player Robert Thompson were also nominated for the award.
For the third year the bankmecu Gippstar awards also named a Gippsland Sporting Champion finalists.
IBF super featherweight Champion Will Tomlinson was named Gippsland Sporting champion, after defeating Mexico's Alan Herrera at Perth's Challenge Stadium and extending his unbeaten run to 17 professional fights.
Lisa Alexander, Will Tomlinson and Peter Siddle were also nominated for the award.
Two-time Australian Boomerangs basketball representative Clinton Jee was named the annual bankmecu Gippstar senior award winner.
Clinton represented Australia in the sport of basketball at the INAS global games, for para-athletes with an intellectual disability.
This is the second selection into the national team for the six foot eight inch player.
The national team improved on past results and finished fourth at this year's championships.
Clinton was an instrumental player in the Australian side and has been described as the cornerstone of the team.
He said he hoped to continue representing Australia for many years to come.
The sport is being considered as a paralympic sport ahead of the 2016 games being held in Rio de Janeiro, Brazil.
The selection panel could not go past Marlo's Damon Morton for overall junior winner.
Damon has reached amazing heights in the sport of cross country skiing.
The biathlete has competed strongly in junior and senior levels, but his most outstanding results have come at the junior level.
Damon won the Australian Joey Kangaroo Hoppet held at Falls Creek in August, the biggest ski race in the southern hemisphere.
He was ranked number one nationally in youth male in the discipline of biathlon and number two junior male in distance cross country skiing.
He has also qualified as the number one male in the Australian Junior Team.
The selection panel encouraged Gippslanders to nominate a local champion.
Nomination information for the Gippstar Awards is available from the Gippsland Sports Academy's website,
www.sportgippsland.org.au