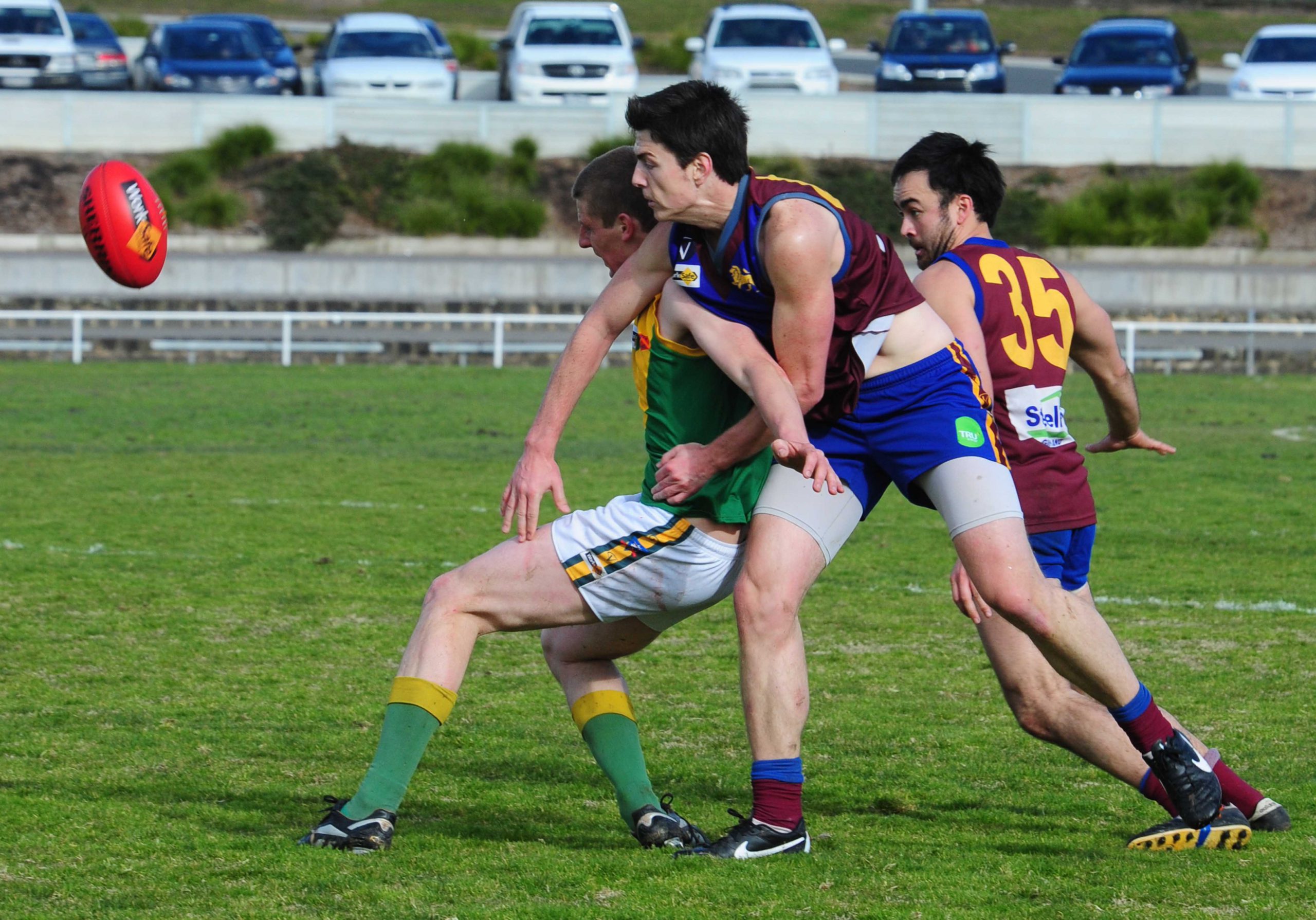 Traralgon has moved to third spot on the Gippsland League ladder after it defeated rivals Morwell by 57 points yesterday.
However, the vital double chance could go to the winner of the Maroons' match against Maffra on Saturday.
This was also the first time this season Traralgon has defeated a side above it on the ladder, and it was Morwell's second heavy defeat against a top five side in the past three rounds.
The somewhat spiteful game could come at a heavy cost for Traralgon, as Michael Stockdale and Danny Campbell were reported in two separate incidents minutes apart late in the second quarter against Jack Wyhoon.
Campbell has already served a three-week suspension for an incident earlier this season.
Traralgon president Andrew Quenault said the club had decided to refer the reports to the Independent Tribunal on Wednesday night.
Morwell coach Damien Kerr said his side did not play well and it was a bad day all round for the Tigers.
"We turned it over and turned it over and had no bench after half-time," Kerr said.
"Manny Johnston was the worst injury as he went to hospital with what could be a serious knee injury.
"Adam Bailey was playing well but went off with a knee injury and came back on but struggled, so we will probably rest him next week against Drouin.
"Devon Soutar did a hamstring as well; we cannot dwell on it."
Kerr said there would be a few players out next week, but Matt Scholz and Adrian Fazioli would return.
He said Julian Blackford played his first game in the reserves and did well.
Michael Geary was at his brilliant best for the Maroons and was one of the best on ground.
Dan McKenna kicked five goals including two in a matter of minutes in the third term.
The game was played at a fast pace but Morwell made many skill errors and up forward it had no-one to kick to.
This made it easy for Traralgon's Jamie Aitken to kick out without any pressure.
Daniel Hutchison kicked six in a losing side and Shane and Jeff Ryan played well.
Moe v Leongatha
Leongatha may have recorded a 53-point win over Moe but it was far from impressive on an excellent playing surface in conditions ideal for football.
Moe coach Jason Macfarlane said the Lions could not sustain their first quarter effort.
"We defended well and held the ball in and Leongatha seemed afraid to run for a while," Macfarlane said.
"Once Leongatha got a couple of early goals in the second quarter they seemed to run more freely."
Leongatha coach Will Thursfield was missing again and may be out for the season because of a snapped hamstring.
Moe outplayed the second-placed side in the first quarter and led by 16 points at quarter-time; it took Leongatha 21 minutes to kick its first goal of the match.
Jacob Wood was one of Moe's better players and he looked good when he exploded from the pack to start the third quarter.
The only problem was he headed towards Leongatha's goal.
Moe was without full-back Kane Airdrie, who was bitten by a spider and spent the weekend on a hospital drip.
He trained on Thursday night and later sought medical attention and Macfarlane hoped he would be right for this week's final match against Bairnsdale.
Stuart Robertson kicked five goals including three in the first quarter.
Gary Blandford, in his 150th game, was busy in the midfield.
Ashley Gould was good for the Lions and put in a workmanlike performance in defence.
Macfarlane said he was selected as a reward for his hard work at training.
"He did not turn the footy over and did everything I asked him to do," Macfarlane said.
Teenager Jack Casson was involved in two physical clashes with Dwayne Holt taking no further part in the game after half-time.
Holt's removal from the game was believed to be more of a precautionary measure.
Moe donated its match payments and awards worth about $2000 to the Beau Vernon fund.
Wonthaggi Power v Maffra
Wonthaggi Power celebrated Cam Jones' 150th game with a hard fought nine-point win over Maffra.
The Eagles' hopes of the double chance now hinges on their clash at home against Traralgon on Saturday.
Drouin v Bairnsdale
Drouin thrashed Bairnsdale by 69 points in a one-sided match.
Steven Ballingall, Pat McGrath and Bob McCallum were Drouin's best players and Matt Hedley played well in his 100th game.
Bairnsdale was not in the contest after quarter-time and its best were Paul Bills, Shane Jamieson and Joel Waters.
Sale v Warragul
Powerhouse Sale thrashed Warragul by 100 points in Jordan Dessent's 50th game to claim the minor premiership.
Dessent has had a great season in defence and this match was no exception.
Leading goalkicker Matt Ferguson only kicked three but Dylan McLaren kicked five and Brendan Rathnow and Kane Martin four each.
Martin, Shane Fyfe and Luke Collins were all among the best players.
Ben Drew, Mitch Nobelius and Ben Hughes were good for the Gulls but they were completely outclassed.