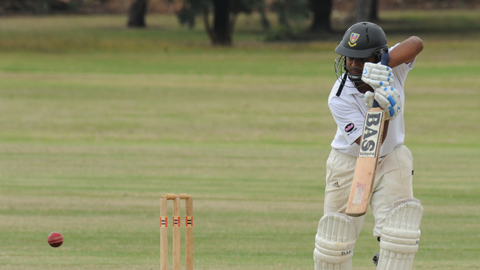 LESS than a week after landing back on Australian soil, Latrobe's Kaushik Aphale notched the first century of the Central Gippsland Cricket Association season with a match-winning 104 not out against Mirboo North in round three.
The imposing Indian batsman showed no difficulty adjusting to Australian conditions on the back of his Irish club season with Northern Cricket Union Premier League side Ballymena, where he scored about 800 runs at an average of 85.1.
Aphale shared a 135 second wicket partnership with Daniel Siddle and steered Latrobe to victory, coolly chasing down the required nine runs from the final over of play.
The former Tripura (India) first class player said it was an ideal start to the season, in which he hopes to guide Latrobe to the premiership in his third year with the club.
"It's quite pleasing actually to get a century and for the team to win," Aphale said.
"I was just pacing it out; me and Siddsy just were trying to play our natural game and slowly build up the partnership.
"After the 50 partnership things started to get a bit easier and the fielders were slightly on the back foot so we could tap and run in that position."
Celebrating his 34th birthday next month, Aphale said he wanted to spend his twilight years in the sport applying his trade abroad.
"I know I've got two or three years cricket left in me so I'm trying to make the most of it traveling around playing," he said.
"(Playing for Latrobe) is a wonderful opportunity to play in another country."
Aphale said improving his consistency was his goal for the summer, and believes his side has the makings of a premiership team.
"We've been getting close in finals and we've got some talent in the team and hopefully we can get the flag."
The veteran player was instrumental in Latrobe's recruitment of up and coming Irish star Rob McKinley, who he said should reap the rewards of experiencing Australian cricket.
"He is a keen fellow and is willing to listen and that's a good thing; he's always trying to improve and better himself," Aphale said.
"This experience of playing in Australia will help him become a better cricketer for sure."