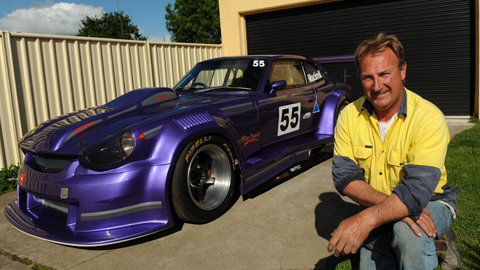 Despite finishing first and second at last year's Australian Hillclimb Championships, Gippsland Car Club's Brett Hayward and Greg Ackland face an uphill battle to reach the podium this year at Bathurst's legendary Mount Panorama.
The Leongatha drivers will join an armada of about 20 GCC members at the championships next month, and while the pair enjoyed success at Yallourn's Bryant Park in the 2011 edition of the race, hill climb veteran Ackland said third place was a realistic goal.
"We've got no hope of winning the thing to be honest; there are cars in New South Wales that will sort us out," he said.
"At the best we'll be third on the podium between the two of us, but you never know, we might do better."
The perennial rivalry between reigning Australian champion Hayward and Ackland has been put on hold in recent times, with Hayward missing a bulk of the season through illness, but that looks set to reignite in Bathurst.
"There is a bit (of a rivalry) that has been going on for a few years," Ackland said.
"It's back on again now."
While Hayward has had the better of Ackland in bygone years, the gap has closed since Ackland built his new zx14 Kawasaki engine powered Ninja GA7, which challenged for the Australian title last year.
It will be Ackland's first time racing on this particular section of the Mount Panorama track at the championships, where he believed the superior grunt of select NSW cars would prove the difference.
"The key challenge will be having enough power; up there where it's a big climb… the motorbike engine might be lacking a little bit," Ackland said.
"Around here we're no worries but up there it's fairly open and fast and flowing and all the rest of it.
"These other bigger cars I reckon will give us what for up there."
With 10 years of bitumen hill climb experience under his seatbelt, and a long history in speedway formula 500 and go-karts, Ackland's primary aim at the championship remains simple.
"My goal is to come home in one piece really," he said.
Another GCC hopeful is Traralgon's Kevin Mackrell, who will contest the sports car division in his Datsun 260 Z V8.
Mackrell's monster holds 18 track records across Australia, and his last visit to Bathurst in 2006 yielded fastest tin top honours.
"It is one of the fastest tin tops in the country (but) there's some pretty quick locals in Bathurst and surrounding areas of NSW so they'll be hard to toss at their home track," Mackrell said.
"I might be the fastest tin top or I might be the fifth fastest but we'll be having a crack."
Mackrell originally built his car for dirt racing in 2000, but has been a potent force on the bitumen for the past decade.
At the 2007 Mount Cotton championships in Queensland Mackrell smashed the tin top record five times.
Mackrell said his car was suited to any type of track, with its combination of "massive slicks, massive brakes and big horsepower" contributing to its dominance in the Australian scene.
The car had technical problems in South Australia last fortnight, but Mackrell said it should be ready to roll come November.
The Australian Hillclimb Championship will be held from Friday 2 to 4 November at Mount Panorama.