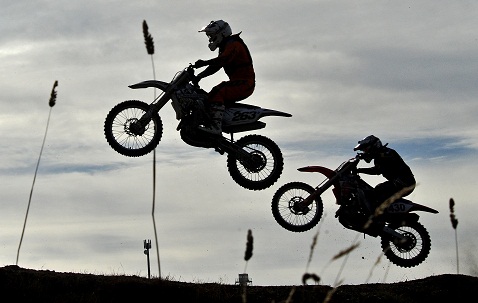 Motorsport
VICTORIA'S motocross elite blazed the hillside trails at Newborough's Blue Rock Motorcycle Club over the weekend in round one of the Victorian Senior Motocross Championships.
More than 340 riders took on the technical course but it was Ballarat's Joel Milesevic and AMA Supercross star Kade Mosig who stood tall when all the dust had settled.
Pearcedale rider Mosig won the first pro lite race with a total time of 30.58.593 minutes, including the fastest lap of the day (01.58.942), just ahead of Milesevic and Jake Emanuelli.
Race two came down to the wire with Milesevic's time of 31.15.583 just edging out Mosig's 31.16.272.
Milesevic, who won the A Lites and under 19 class at last year's titles, was thrilled to get his year off to a flying start.
"The first race was a bit of a tough one, I didn't get a great start. I took a while to get around a few riders. I was also a bit anxious and a bit aggressive," he said.
"In the second race I got a decent start… in the second lap Kade got stuck behind a few riders which gave me a bit of breathing space (and) towards the end I was trying to still be fast enough to beat him and did just enough."
Adam Monea took out the Pro Open class with a win and a second on Saturday over Blue Rock and defending 2012 Victorian A Grade Open champion Sam Martin, with Lewis Woods finishing in third.
2012 Victorian women's champion Kristy Gillespie is in the hunt for her record-breaking eighth state title and got her campaign off to a fantastic start by winning two out of her three motos on Saturday.
Blue Rock club president Gavin Dunn said all the hard work that went into the course was worth it following an exceptional weekend of racing.
"We couldn't have asked for a better race meet," he said.
"There's a real sense of pride for a club who gets to host a Victorian Championship (and) it's satisfying for us to see riders enjoying themselves at the track.
"The Pro Open and Pro Lites classes drew a lot of people to the fence; all in all it was a great weekend of racing."
Round two of the Victorian Motocross Championships will take place at Swan Hill on 15 and 16 June.