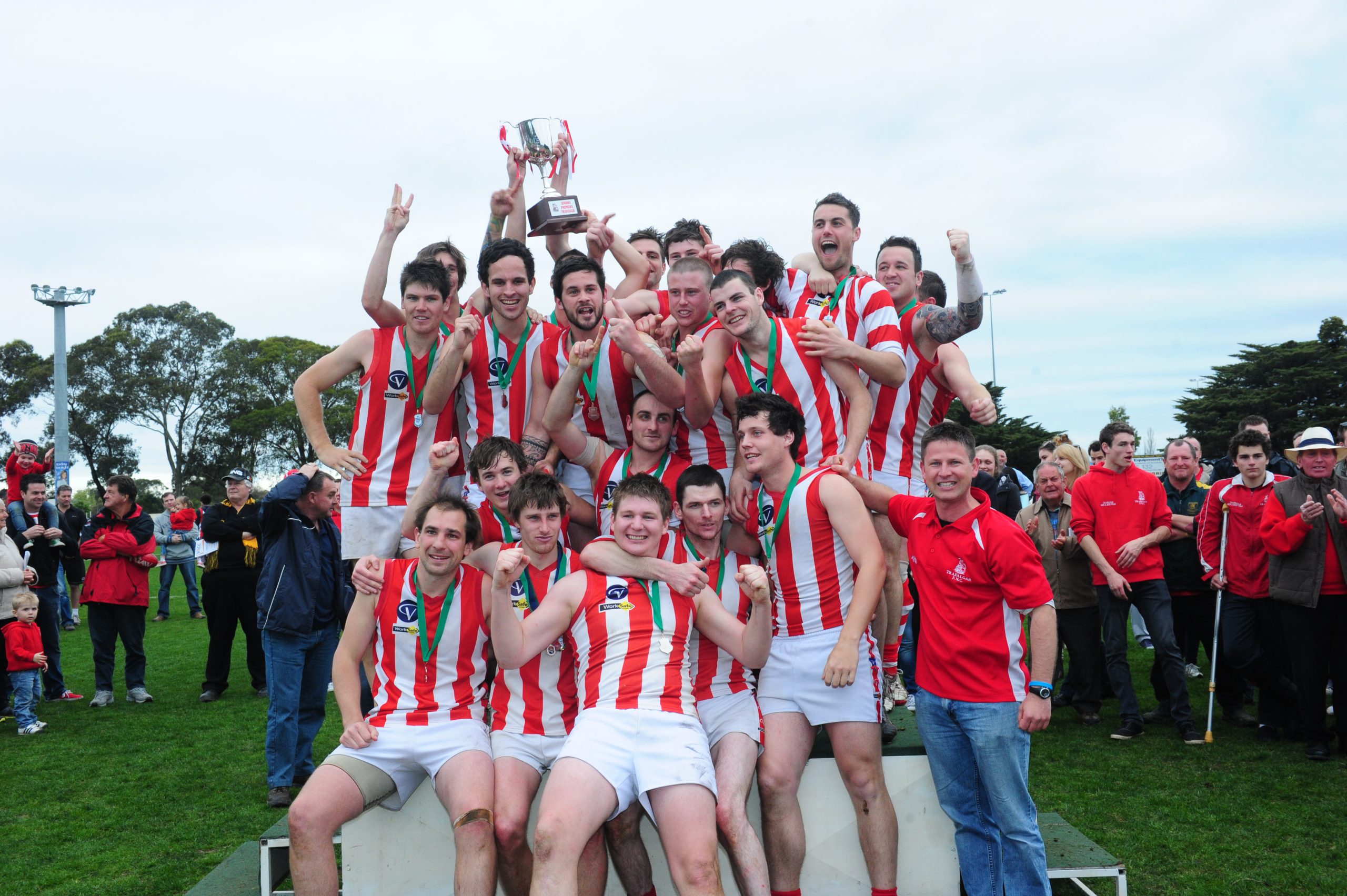 MID GIPPSLAND FL
WITH the grand final loss behind them and a renewed focus on youth development, Allan Chandler said a transformed Newborough side will face Trafalgar this Saturday.
The Bulldogs have a tough ask ahead; beating the reigning premiers is never easy, but Trafalgar's determination to preserve their home ground record will be a great incentive for the Bloods to win.
For a side who pride themselves on a strong history of victory at home, losing at Trafalgar twice last year was a blow that coach Chris Kyriacou does not want to see repeated.
"We just want to go out and win, especially at home," he said.
"I know we dropped a few games at home last year, and we hadn't dropped two games at home in about three seasons, so we really want to be conscious that we win at home," Kyriacou said.
Newborough coach Allan Chandler said he was excited about the revamped senior team, which will include more players around the 18 year-old mark.
"The most exciting thing about this year is the youth, and how they adapt to senior football. Some have already played a few games, but they're going to get a real run this year," Chandler said.
"Some of the old boys talk about what happened last year, but it's a new season now.
"We'll try and aim at catching Trafalgar and we get a crack at it first up and it'll be good to see where we're at."
Mirboo North v Morwell East
MORWELL East coach Paul Henry said his club was working towards "pinching the early one", but it would be a "big task" against Mirboo North at their Tiger den this weekend.
Henry said the side would continue to implement the 18-man press, which he admitted was a game plan that needed a few years of practice to reach an optimal level, adding the changes to the side will be a setback.
"I think it works well in this competition. We didn't get really beaten well by any side last year," Henry said.
The side will need more than just a strong defence to beat the Tigers, but Henry said he was hopeful nonetheless.
"I like playing a good side straight up because you never know, first game in, you can sometimes grab one. Hill End beat them round one last year (so) it would be nice," he said.
Mirboo North has retained majority of its players, excepting the notable retirement of ruckman Donny Webb, but the Tigers will be hoping he makes it a temporary hiatus.
With a similar playing list to last year the Tigers are expected to be a strong top three side again in 2013.
"You never know what you're going to get, but I'd like to think we're going to be a better team," Tigers coach Troy Hamilton said.
Thorpdale v Yarragon
WITH one victory each in 2012, coming against one another, both Thorpdale and Yarragon hope to improve their win-loss record this season.
Thorpdale will put forth an improved outfit, with injections into their forward line and midfield that should complement the existing unit, who have increased their fitness and skills.
The club's solid performance in a practice match should act as a confidence boost, but Thorpdale coach Brett Sherriff is not one to get ahead of himself and is focused firmly on winning this game before he contemplates the rest of the season.
"The main objective at the moment is to improve on last year, so if we can do that come round one and see how we go and how we trot, we'll reassess on what we're doing, but the main objective is to improve and see how far we go," Sherriff said.
Among the recruits Thorpdale have gained is full forward Andrew Slevison, who provides a reliable avenue to goal.
New assistant coach Ben Carboni will also be a welcome addition to the midfield.
Yarragon coach Anthony Pavey echoed Sherriff, saying that while a win first up would be good, he was not placing too much importance on the opening game.
"While it's good to set yourselves up and you'd like to get a win, we're not going to base our whole season on that one game," Pavey said.
He said with the inclusion of some midfielders and some backline players returning from injury, they should be able to keep sides from scoring the big margins that plagued them in 2012.
Yinnar v Hill End
WITH far more inclusions to Yinnar's senior side than losses, the team which made the preliminary final last year looks set to be even stronger in 2013.
The Magpies missed out on a grand final run by just 10 points, going down to Trafalgar, and while coach Sam McCulloch said they finished the year "really well" he was determined to go one better this year.
"I suppose we're just looking to improve on last year's performance; hopefully we can win more games during the home and away season and play finals footy and give ourselves a better chance to go further than we were last year," he said.
"It's probably going to be a tough match first up. It's good to be on our home ground.
"Hopefully we can have a win first up. But it's one of those things, you don't know, no matter who we're playing, you don't really know until we get out there how anyone's going to be."
Hill End coach Phil Town is expecting a tough game against the bolstered Yinnar unit.
While Town has not spelled out such strong finals hopes, he had firm goals for improving the side's consistency, and a four quarter effort will be needed to overcome the Magpies.
Yallourn/Yallourn North v Boolarra
BOTH Yallourn/Yallourn North and Boolarra, who face off at Yallourn North this Saturday, had disappointing seasons last year.
The 2011 premiers finished out of the top five after a poor start to the season, which ended with more than a third of the regular senior squad injured.
With these players returning to form this year and a few new recruits, Demons coach Tony Giardina's aim is firmly set on finals.
While the side has lost Tyson Leys and Matt Dyer, it has more than made up for it with recruits from higher leagues.
Yallourn/Yallourn North coach Rick Hearn said it will be interesting to compare the depth of his side, which has a few new faces, to a team that has recruited "a bit more".
"We'll just come down and see how our boys go against a side that have recruited well," Hearn said.
Hearn was optimistic about his side's prospects this season, hoping to "sneak into finals".
"It's a young squad so I'll be just working with the boys and hopefully improving their footy as we go along," he said.
"If their footy improves and they help towards the team improving we'll see what happens during the year.
"We can only keep going forward."