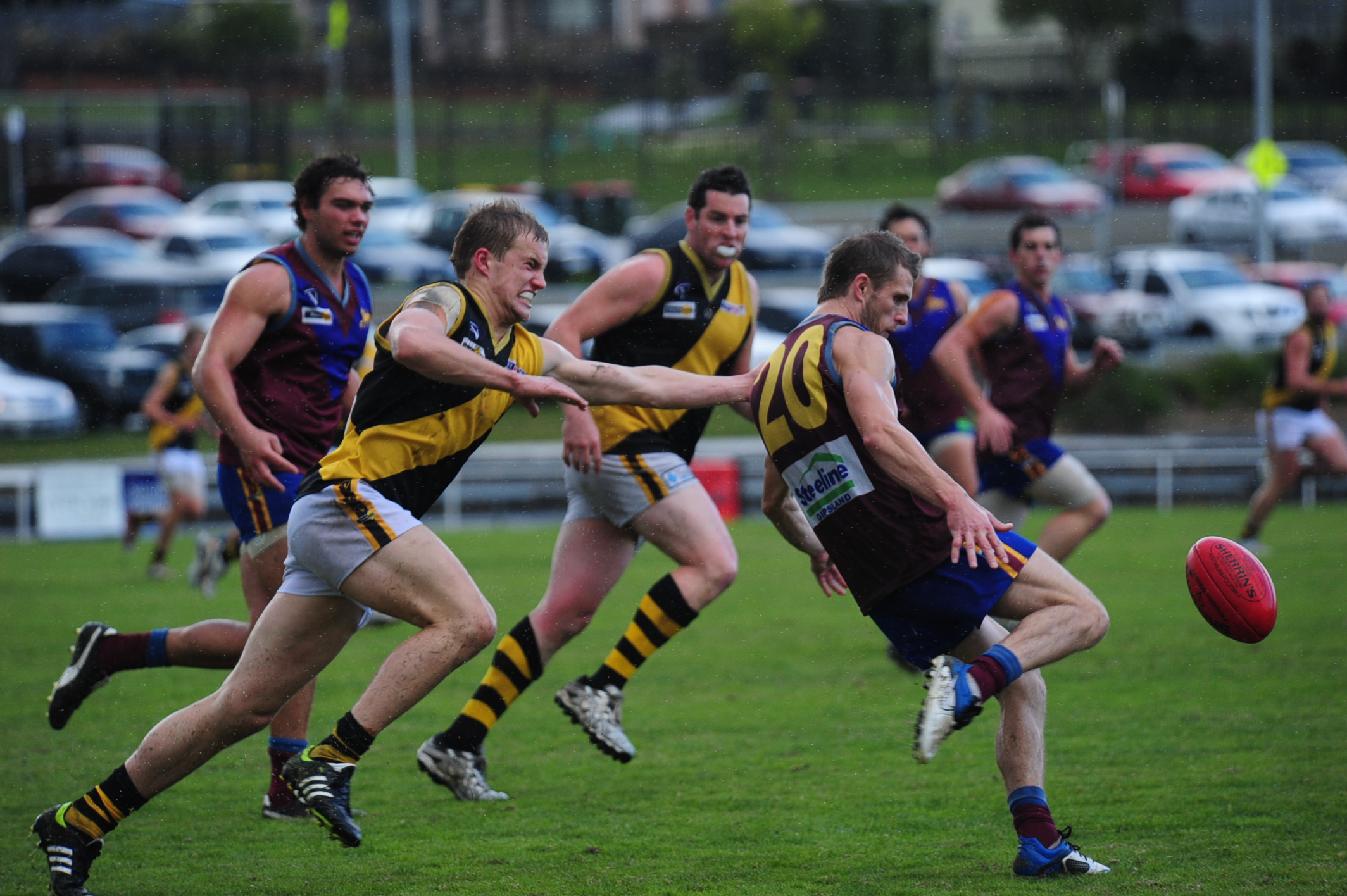 BAIRNSDALE
Coach: Shaun Mooney
Last season: Eighth – 5 wins, 12 losses
Round one opponent: Leongatha
SHAUN Mooney returns to the helm of the team he led to back to back premierships in the East Gippsland Football Netball League in 2009/2010.
He is fresh from a two year stint as coach of Corowa/Rutherglen in the Ovens and Murray Football League.
Mooney will lead a squad of 34, just seven of who he has coached before.
"It's terrific; coaching Bairnsdale in the Gippsland League is something I have always wanted to do," Mooney said.
DROUIN
Coach: Robert Johns
Last season: Seventh – 7 wins, 11 losses
First round opponent: Warragul
Robert Johns has taken over from Ben Soumilas.
Johns joins the Hawks after three years as the under 18 coach at Berwick.
During this time Johns also served as an assistant to the club's two senior coaches.
The Hawks ran seventh last year after finishing runners up in the two grand finals prior.
Johns said he hoped to lead Drouin back into finals.
"Obviously to play finals would be fantastic," he said.
"My hopes are to be competitive for longer in games of football; you stay competitive for longer and you don't know where that can take you," he said.
MAFFRA
Coach: Hayden Burgiel
Last season: Runner up – 11 wins, 7 losses
First round opponent: Moe
Hayden Burgiel is back in charge for a second consecutive year and also coached Maffra 2006/07/08.
Burgiel, who has had an ongoing struggle with a knee injury, will play at least the first two rounds but will reassess his on field role after his 200th match in round two. He will be assisted by the non-playing Keagan Hibbins.
After winning six premierships since 2002 and finishing runners up to fierce rival Sale last year, Burgiel hopes to improve.
"We will definitely improve, we have a good group of juniors coming through," Burgiel said.
Maffra has taken a different approach to recruiting this year, enlisting a big game forward in Darren Sheen who is returning to live in the area.
The Eagles have also changed the structure of its backline.
LEONGATHA
Coach: Will Thursfield
Last season: Second – 15 wins, 3 losses
First round opponent: Bairnsdale
Will Thursfield returns to the top job at Leongatha for a second year.
The former Richmond defender will miss the first few rounds of the season due to injury.
Thursfield said his team lacked depth in the midfield and goal kicking options last year.
"The forwards from Korumburra, (Pat) Contin and (Aaron) Hillberg will fill that role," he said.
MOE
Coach: Jason MacFarlane
Last season: Tenth – 3 wins, 15 losses
First round opponent: Maffra
Jason MacFarlane will return to the helm at Moe for a second year, however he is uncertain as to whether he will play or coach from the sidelines.
Despite speculation the Lions were struggling for numbers, MacFarlane said the club is lacking quality not quantity.
"We are not getting ahead of ourselves. We are hoping to improve on and develop last year's list and if we win three to four games, we will be happy," MacFarlane said.
On a positive note Moe has some great juniors coming through its under 16 and 18 program, which MacFarlane hopes to expose.
SALE
Coach: Matt Ferguson
Last season: Premiers – 17 wins, 1 loss
First round opponent: Traralgon
After leading Sale to the premiership, Matt Ferguson is back at the Magpies to defend the title.
Originally from Heyfield, Ferguson will line up on the field for the Magpies for a third season.
Prior to that he played for the Perth Demons in the WAFL.
He admits there will be some additional pressure on the reigning premier as it becomes the "hunted" rather than the "hunter".
While they lost some players the Magpies will be bolstered by the return of Jacob Schuback.
TRARALGON
Coach: Paul McCulloch
Last season: Fourth – 10 wins, 8 losses
First round opponent: Sale
A life member and four-time premiership player at the club Paul McCulloch has taken over the reins at Traralgon.
With plenty of experience in the assistant role, 2013 will mark McCulloch's first season as senior coach.
He is among a list of former greats to return to the club, with former coaches and premiership players Tony Lane and Greg Morley among those helping behind the scenes.
He will be supported by playing assistant coaches Tom McQualter and Dan McKenna.
McCulloch, who played 194 games for the club before retiring in 2005, has set his sights on playing finals football.
"Initially we will be looking at a top three finish with aim on improving straight away," McCulloch said.
Things are already looking up for the Maroons who struggled with numbers in the reserves last season.
WARRAGUL
Coach: Ash Green
Last season: Ninth – 5 wins, 13 losses
First round opponent: Drouin
Warragul welcomed Ash Green back into the fold for 2013, a side he coached for five years including a senior premiership in 2003, after a six year stint at Gippsland Power.
Green wants to build on the success the club had as grand finalists in the thirds and on the achievements of its senior team in the second half of last season.
MORWELL
Coach: Harmit Singh
Last season: Fifth – 5th, 9 wins, 8 losses
First round opponent: Wonthaggi
Harmit Singh joins Morwell after a stint as assistant coach and co-captain at Castlemaine in the Bendigo Football League.
As Community Engagement Officer at the Collingwood Football Club, the 26-year old has helped the Tigers secure the services of former Magpies Tarkyn Lockyer and Anthony Rocca, who are expected to play three or four games each.
After being de-listed after two years at Richmond, Dean McDonald will return home to Morwell and the club has also recruited well at a local level.
"To be honest, last year's team played finals ..you bring in these guys and I think they'll be the icing on the cake," Singh said.
WONTHAGGI
Coach: Rob Railton
Last season: Sixth – 7 wins, 11 losses
First round opponent: Morwell
Robert Railton returns to Wonthaggi where he played as a junior for the Wonthaggi Blues.
He served as an assistant coach at Casey in the VFL last year, prior to that he spent five years at Frankston.
Railton said his goal is to be consistently competitive in every game.
"There will be a strong emphasis on competitive intent within the whole group," he said.